By David Atangana
Journalists in Bamenda, capital city of the North West Region on Wednesday January 25, 2023 converged at the Big Mankon Cathedral for a mass to mourn and pay tribute to their slain colleague, Martinez Zogo.
Dressed in black, they lit candles paying homage to Zogo and other colleagues who have been killed in duty.
Led by Ignatius Nji, Chapter president of Cameroon Journalists Trade Union, CJTU, journalists carried placards demanding justice for Samuel Wazizi, Martinez Zogo and others.
The placards had messages like 'stop killing journalists' 'defend press freedom' 'End impunity amongst others.'
"Journalism in Cameroon has a serious problem, we were still grappling with libel and now they have gone physical," said Ignatius Nji.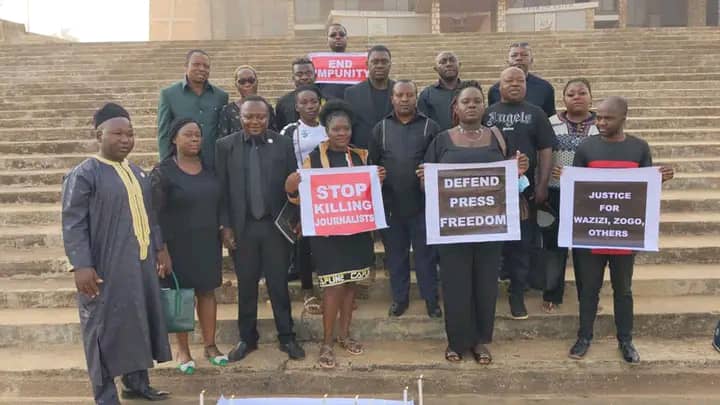 To the Union leader, "In this country there is a right to respond not to kill when a journalist errs."
Noting that journalists are no longer safe Nji raised an alarm given that similar events have occured in the past.
"Wazizi was assassinated, now it is Zogo, who next?" he went on.
While calling on the powers that be to investigate and bring to justice the killers of Zogo, Nji said suspects are being rumoured and government should take it very seriously.
"They are names being called in association to the shameful killing of our colleague. The government should take it's responsibility and ensure that justice is served."
Zogo worked as Editor-in-chief of the privately owned radio broadcaster Amplitude FM, near his home in the capital city of Yaoundé.
He was abducted at about 8:00 PM on Tuesday, January 17, 2023 by unidentified men.
Five days later was later found death under unclear circumstances on January 21, 2023.
Mimi Mefo Info
You can help support our work through the link below