By Tata Mbunwe
Three Cameroonians are reported to be among several people who died after a boat sank on the southwestern coast of Turkey.
Two Cameroonian men and a women were identified among victims of the incident that occurred on the night of March 13, Cameroon's Ambassy in Turkey has said in a release.
Their bodies have been kept at the Izmir mortuary in Turkey, Ambassador Victor Tchatchouwo said in the release.
"The Embassy continues the work of identification and invites the families and other members of the Cameroonian community of Türkiye who would be in search of a relative, to kindly send us, urgently, all identity documents or photos, which can facilitate the ongoing research conducted by the Delegation of Embassy officials who are hard at work in Izmir," he stated.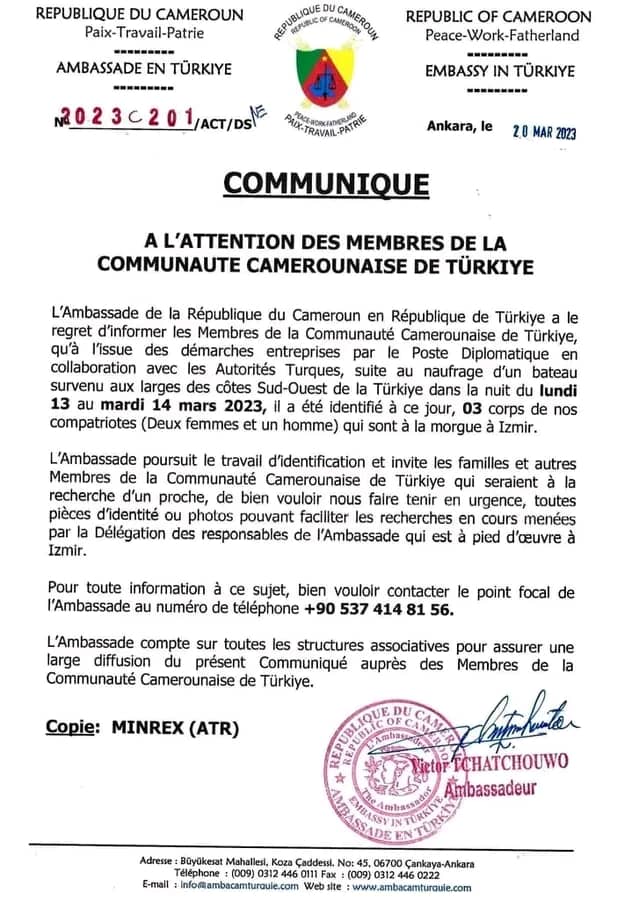 The incident happened just over a month after a Cameroonian footballer, Teneng Elvis Nkam, died in a deadly earthquake the killed over 30,000 people in Turkey and Syria.
Mimi Mefo Info
You can help support our work through the link below