By Amina Hilda

A man whose name MMI could not immediately get has demolished a family compound in the Nkolnda vicinity of Yaoundé leaving his relatives homeless. The man in question had spent 30 years in Europe but returned recently to lay claim over the property.

One of the homeless siblings told reporters that, "is it because he thinks he is the boss? Since he has lived in Europe?".

It is reported that the man in question had sold the land wherein are graves of dead relatives. A nephew to the man said: "Our grand parents, my mother, my sisters and brothers who left us, were all buried here"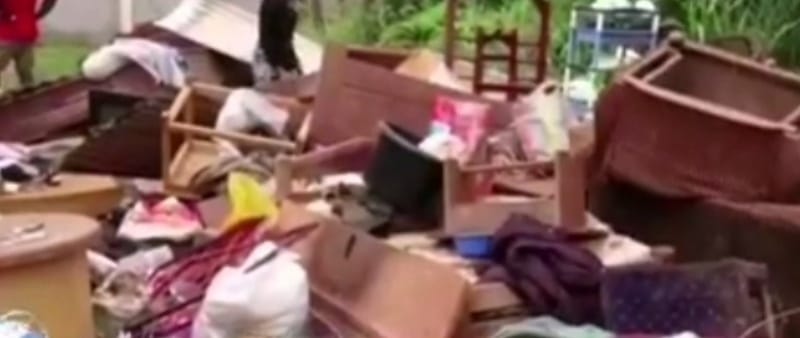 The homeless relatives are now saying, they have a land title to show the land belongs to them. They said the parcel of land has been the property of the family for over 40 years.

The bush faller brother is however said to have sworn to keep the land.
About four houses were reportedly demolished leaving the family's belonging at the mercy of thieves. The homeless relatives are now said to be surviving thanks to persons of goodwill.



————————————-
The Mimi Mefo Info Team, (MMI) appreciates all your constant support.

We are driven by the fact that you remain our only source of inspiration, as we continue to gather, write and publish stories without fear or favour.

These are, however, very trying times for several journalists, especially for MMI whose reporters have to brave all the odds to work remotely for fear of reprisal attacks.

That's why we continue to ask for your constant support.


How to support us!

*Please share our website link with friends and loved ones daily


*You can also support our dynamic team working day in and day out to keep you up to date, with any amount.

Use the following payment methods:

PayPal: contact@mimimefoinfos.com

Mobile money: +237679135573

Bank Transfer: Account name: MIMI MEFO INFO LTD
IBAN: GB49TCCL04140456360181
SWIFT/BIC: TCCLGB3L
Intermediary bank SWIFT: BARCGB22 (only use if required by sender bank)*
You can help support our work through the link below