The Prime Minister of Cameroon on March 17 shut down the borders among other measures to contain the spread of the coronavirus.
The decision, however, took effect on March 18, hours after Air France flight AF900 landed at the Yaounde Nsimalen International Airport.
The flight from Charles De Gaulle in France had "on board 198 persons" and "is considered to be at risk by competency services" health Minister Manaouda Malachie has revealed.
This, he explains, is because "among the passengers, three suspected cases were tested positive to COVID-19."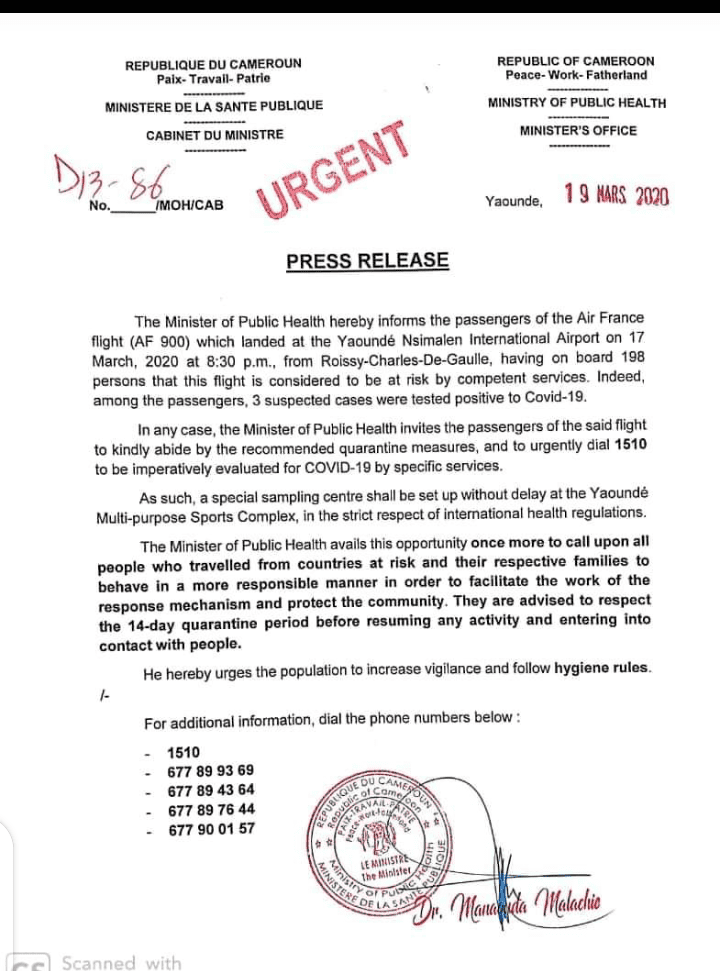 It is for this reason that he calls on the passengers "of the said flight to kindly abide by the recommended quarantine measures and to urgently dial 1510 to be imperatively evaluated by specific services."In addition to this, Minister Manaouda Malachie announced that "a special sampling centre shall be set up without delay at the Yaounde multipurpose sports complex in respect of strict international health regulations."
On the eve of March 17, there was an uproar after some Cameroonians that arrived the country through the Douala airport were held back for mandatory testing and quarantining by authorities.
Many later criticised the move, stating that not only did the government fail to keep them in good condition, but let some go without being subjected to quarantining and testing.
MMI
You can help support our work through the link below