By Atangana David
Renowned lawyer and human rights activist, Barrister Agbor Balla Nkongho and Ambazonia separatist leader, Ayaba Cho Lucas have been trading words over who has legitimacy to represent 'Anglophone' Cameroonians.
In a tweet on April 12th,2022, Ayaba Cho Lucas said, "we are aware that a group of impostors from churches including chief colonial apologist and enabler Agbor Balla are meeting in Switzerland.They do not speak for our people and we warn the Swiss to desist from enabling acts that foster and entrenches occupation and it's consequences".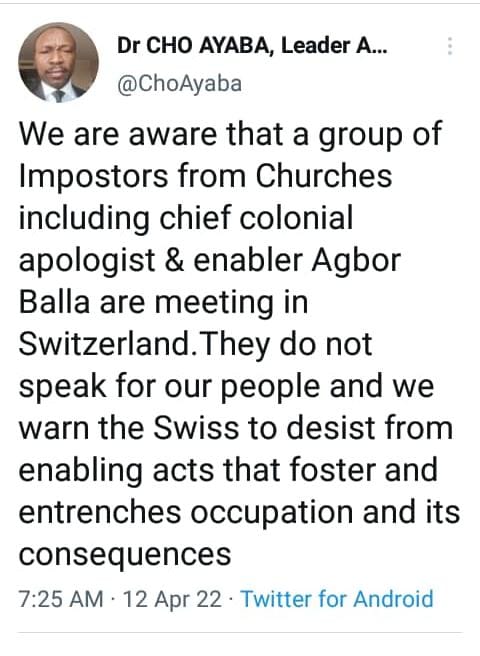 In response Agbor Balla Nkongho was blunt.
"you don't have any moral authority to call others names.You incite violence against your own people, encourage and support their killings.And you call your self a leader.A leader with blood in his hands.You highjacked a legitimate struggle for your nefarious activities", Agbor Balla tweeted.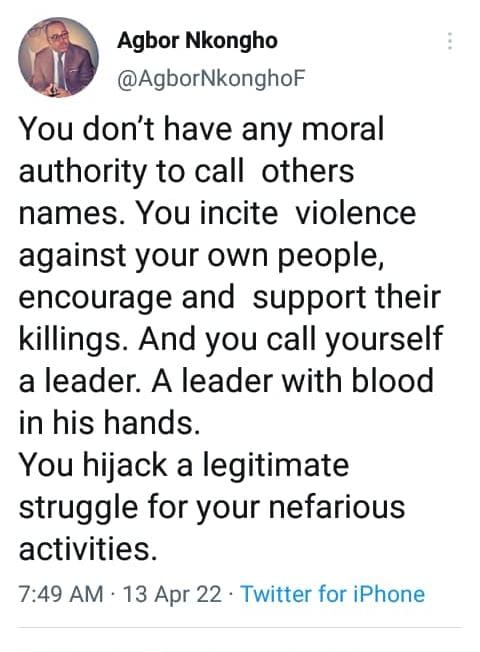 Both men have been noticed over the years as some of the actors in the ongoing crisis in the Anglophone North West and South west regions.
Barrister Agbor Balla Nkongho is former president of the Cameroon Anglophone Civil Society Consortium-CASCS.
The group was formed in 2016 at advent of the current crisis which morphed into an armed conflict.
The goal of the consortium was to fight for a return to a two state Federation as was the case before 1972.
Government had banned the group in 2017 and had it's leaders arrested.
After some months in prison, Agbor Balla and a few others were released.
The legal mind has since stood for a one and indivisible Cameroon with a federal structure, a narrative that has recorded his name in the bad books of Ambazonia separatists who call him an enabler.
Ayaba Cho Lucas on the other hand is leader of the Ambazonia Governing Council, one of the splinter groups fighting to create a state the call Ambazonia in the English speaking regions of Cameroon.
He also commands an armed militia called Ambazonia Defense Forces.
The group has been accused of committing human rights atrocities in the military campaign against Cameroonian soldiers.
The war of words between the two men came after reports emerged that some Anglophone church leaders and civil society actors are in Switzerland on invitation in a consultation on peaceful resolution of the near 6-year armed separatist conflict. This development was not independently confirmed.
The Swiss government had held similar talks with Separatists leaders including Ayaba Cho Lucas in the past.
In 2019, the Swiss government announced that she was going to mediate talks on the conflict between the government and rebels in English speaking regions.
The government of Cameroon has never made a statement for or against Swiss mediation.Separatists have been quarrelling among themselves over who has legitimacy to seat on the mediations table.
Government and the rebels are yet to be brought to the table four years after the process was announced.
You can help support our work through the link below