There has been a controversy over school resumption in Cameroon's restive North West and South West regions ahead of the 2020/2021 academic year. After close to four years of school boycott in these regions, where activities are paralysed by the bloody quest for the independence, some proponents of the break-away state called Ambazonian are not agreeing on kids' should return to school. School resumption in Cameroon is slated for October 5th 2020.
In the latest release published on Friday, September 25th, 2020, members of the Federal Republic of Ambazonia, on the ground, say they have not authorized the reopening of schools.
"Ambazonia Restoration Forces (ARF) has not authorized the resumption of schools in Ambazonia," John Egyawan, the group's secretary of the state department of self-defence and security said.
Egyawan adds that the Interim Government (IG) and the department of Self Defense (DSS) have examined that "it is still unsafe for students and pupils to start school".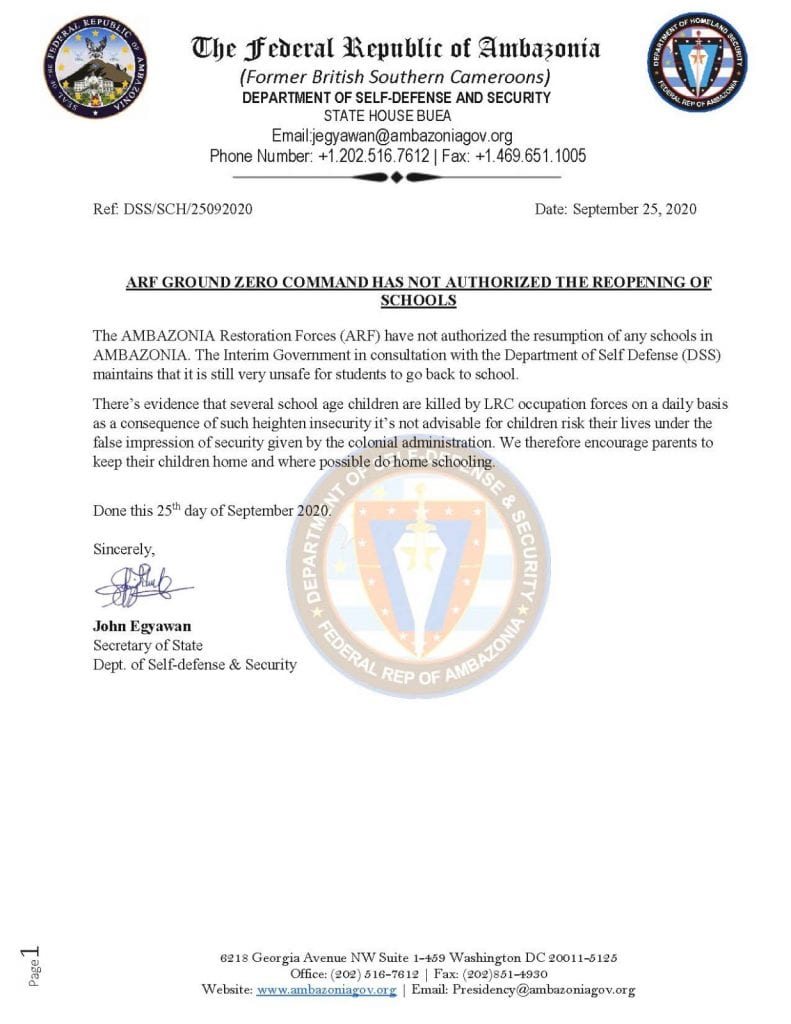 "Several school-age children are killed by La Republique of Cameroun occupational forces on a daily bases. As a consequence of such heightened insecurity, it is not advisable for children to risk their lives under the false impression of security given by the colonial administration. We, therefore, encourage parents to keep their children home and where possible do homeschooling," Egyawan went on.
This release by the Federal Republic of Ambazonia counters an earlier statement backing school resumption. Titled: "A communiqué for back to school 2020/2021", the purported authors who called themselves, the North West and South West Restoration Fighters called for school resumption this October, stating that the purpose of the fight for independence is not to groom illiterates in the North West and South West regions.
The fighters went further to present 19-point terms that need to be fulfilled before classes can resume. One of the conditions said, "All former government schools MUST change their signpost names to community primary/secondary school X or Y etc before opening its doors". Other conditions include no teaching of French Language and the history of La Republique du Cameroun, no singing of Cameroun national anthem nor hoisting of the green, red, yellow flag.
Calls for school resumption in the Anglophone regions of Cameroon have been made in the past despite the rising insecurity. On the 3rd of September 2020, Mimi Mefo Info published an article in which Mark Bareta, one of the front line Ambazonia activists based in the diaspora, called for schools to resume in Southern Cameroon. To Mark Bareta "The Southern Cameroon liberation struggle is not about school boycott anymore. That phase of the resistance is over".
In the article, Mark Bareta also detailed conditions under which schools can function in the Anglophone regions. "What we have consistently said is that the right to life is more important than the right to education. As such, where the security situation permits, children should go to school. This is evident in various areas where schooling is ongoing because the security situation permits".
The activist affirms that neither separatist fighters nor the regular military can secure kids at school. "…in areas possible, Ambazonia restoration forces should allow the schooling of children especially those that stop the singing of the colonial anthem. Monday ghost town will be respected just as periodic lockdowns when necessary," Bareta said.
Parents, students speak out
Formal teaching and learning process has not been a reality in many localities in the North West and South West regions of Cameroon since November 2016, when school boycott calls were made. As the crisis morphed into an armed conflict in 2017 following the arrest and detention of its leaders, the desire for separation grew – government forces intensified crackdown in the regions. Today, some parents still, however, think it's "practically impossible" for schools to restart.
A resident of Fundong, Boyo division in the North West region of Cameroon who prefers to be called Christian for security reasons, thinks any call for school resumption by the government of Cameroon or the Ambazonians is a joke. "Several schools in towns and villages in the North West and South West Regions are in a deplorable state. They are not even good for the eyestalk less of hosting students for studies. Schools burnt, destroyed and demolished have not been rehabilitated because the insecurity is still very much present,"

Christian, a parent told MMI.
He states that "no right thinking teacher can dare to resume classes in such an atmosphere".
To a form five student in Bamenda awaiting results of Cameroon General Certificate of Education (GCE), "Last academic year, we managed to attend some classes meandering through bullets sometimes in assorted dresses to reach our schools. This can still continue in Bamenda. This is because we enjoy a minimum degree of security with the heavy presence of the military. But in other places like Batibo, Bafut, Mbengwi and villages in the divisions, I don't think it will be possible".
A teacher posted to government high school Menji in Libialem division in the South West region of Cameroon since 2017 has never resumed duty because of insecurity. For three years, the teacher (name withheld for security reasons) resides in Dschang in the West region of Cameroon.
He told Mimi Mefo Info on the phone that, "Am not the only civil servant that has deserted the place. Even the divisional officer does not live there anymore. When schools were suspended in March this year following the outbreak of coronavirus, I thought government and separatists will strike a deal so that schools can resume in the North West and South West regions. They did nothing, What magic do you think they can do now for schools to resume?" he questions in total frustration and disappointment.
Meantime, millions of people remain internally displaced in other parts of Cameroon while some are refugees in neighbouring Nigeria. As the government of Cameroon, Ambazonia leaders and fighters continue to speak different languages, issuing threats and counter-threats on school resumption in the Anglophone regions of Cameroon, parents, guardians, students and pupils living in the restive regions remain frustrated with insufficient resources to send their kids to study in the predominantly French-speaking parts of Cameroon.
By Mbatho Ntan
(C) Mimi Mefo Info
You can help support our work through the link below