Detained media mogul Jean Pierre Amougou Belinga has reportedly requested permission from the Government Commissioner at the Yaounde Military Court to be escorted to the Yaounde Teaching Hospital for mental health treatment.
In a letter dated March 9, the Registrar of the Yaounde Central Prison, Kondengui, solicited that Belinga needed to visit a mental health expert on that same day, a request which is yet to be granted.
He said the detained billionaire was recommended by the prison doctor, with the approval of the prison administrator Nkem Efon Kevin, to visit the Yaounde referral hospital.
For this to happen, Belinga will have to be granted a Gendarmerie escort and this needs official approval from the Government Commissioner at the Yaounde Military Court.
"Given the sensitivity of the operation, there is need for a mixed escort with elements of the Polyvalent Intervention Group of the National Gendarmerie (GPIGN) to supervise his release and reintegration into the penitentiary, through a formal extraction order from you," the prison Registrar wrote in his letter to the Government Commissioner.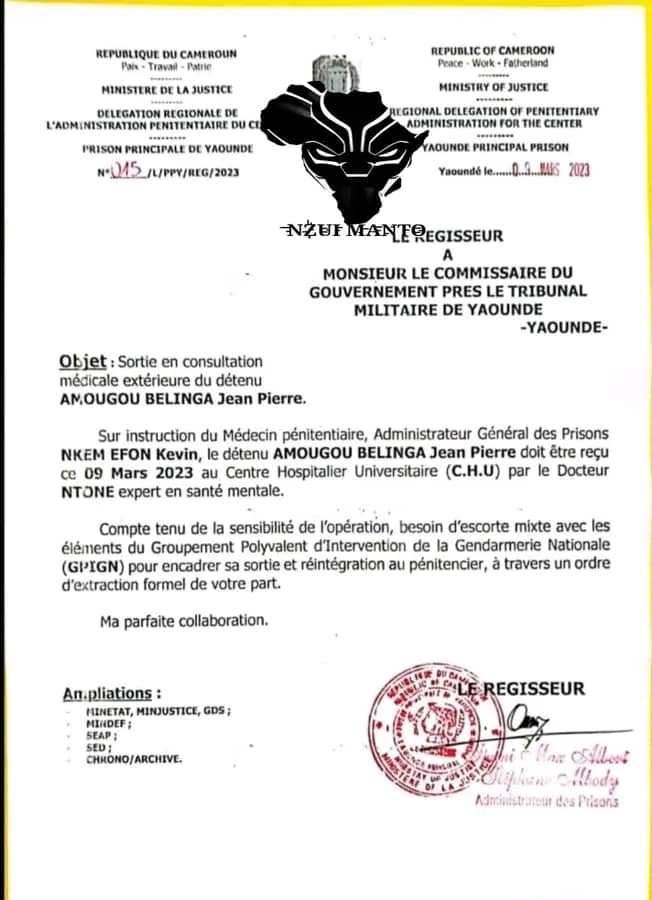 March 10 makes the sixth day since Amougou Belinga was charged and sent to Kondengui for complicity in the torture of assassinated journalist, Martinez Zogo.
Before being charged alongside more than a dozen other suspects on March 4, Belinga had spent 26, days at the State Secretariat of Defence for the Gendarmerie.
Mimi Mefo Info
You can help support our work through the link below