A new detachment of special forces of the Cameroon army will in the days ahead, be sent to the conflicting North West and South West regions of the country.

The move requested by the Minister of Defense, Joseph Beti Assomo, was approved, confirmed in an August 29, 2022 correspondence from the Minister of State, Secretary General at the Presidency, Ferdinand Ngoh Ngoh.


The President of the Republic, Paul Biya, the document read, "has given his very esteemed accord for the deployment of a detachment of Special Forces in the theaters of operations of the Second and Fifth Joint Military Regions (RMIA2 and RMIA5)."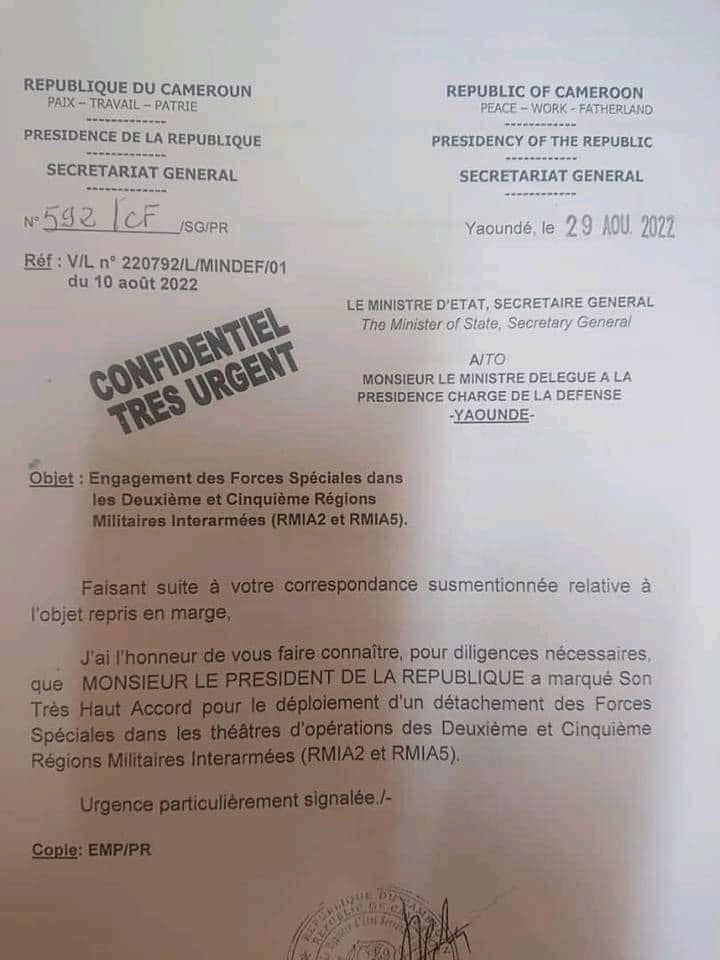 The decision comes on the eve of the start of the 2022/2023 academic year, amidst government closing schools authorized by separatist fighters in the two regions.


It also comes after over 5 years of the regular army being unable to crush the armed resistance of separatists fighting for a breakaway state.

The fresh deployment again reignites the differences between those clamouring for dialogue with separatists as solution, as well as government ministers who have continues to insist that the crisis is nearly over and a return to normalcy is in sight.


————————————-
The Mimi Mefo Info Team, (MMI) appreciates all your constant support.

We are driven by the fact that you remain our only source of inspiration, as we continue to gather, write and publish stories without fear or favour.

These are, however, very trying times for several journalists, especially for MMI whose reporters have to brave all the odds to work remotely for fear of reprisal attacks.

That's why we continue to ask for your constant support.

How to support us!

*Please share our website link with friends and loved ones daily


*You can also support our dynamic team working day in and day out to keep you up to date, with any amount.

Use the following payment methods:

PayPal: contact@mimimefoinfos.com

Mobile money: +237679135573

Bank Transfer: Account name: MIMI MEFO INFO LTD
IBAN: GB49TCCL04140456360181
SWIFT/BIC: TCCLGB3L
Intermediary bank SWIFT: BARCGB22 (only use if required by sender bank)*
You can help support our work through the link below