The government of Cameroon claims to have won over 71 percent of the votes in the 2018 presidential elections. These results are consistently being challenged by people like Prof Maurice Kamto, who is the leading figure calling for a nationwide protest to oust the current regime. Maurice Kamto's announced protest, backed by key leading opposition groups, aims at mounting pressure on President Paul Biya's regime to leave power so that a period of transition could address the deepening Anglophone crisis and a revision of the electoral code. The unanswered question is, why is there so much panic within government ranks over a demonstration organised by the 'minority' opposition?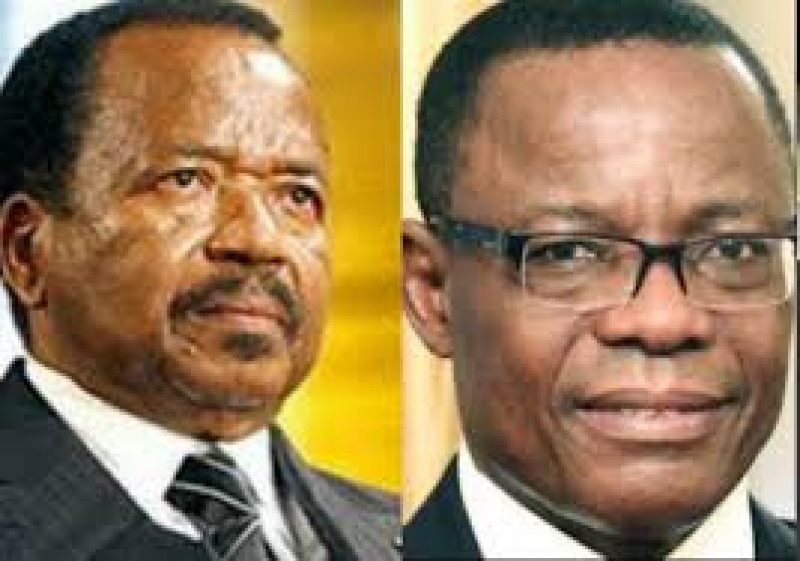 Biya use of force: a recurrent phenomenon
Biya is no stranger to the use of force in response to any civil action. As far back as the 1980s, Biya's regime has been highhanded in its handling of any form of agitation or dissension. These reached their heights in the brutal response to peaceful protests staged by Anglophone civil society and his crackdown on post-election protesters in 2018/2019, that saw many serving jails sentences, including Maurice Kamto and some top members of his party. One is apt to wonder why repressive governments are always afraid of peaceful demonstrations. Statistically, non-violent resistance has been more successful in overthrowing oppressive systems than violent revolutions. A political scientist further clarifies that "dictatorships only understand one language – violence. When they are confronted with non-violence, they do not understand how to deal with it. That is why they often resort to violence against peaceful protesters, and whenever the violence fails, as it is likely to, if the protests are sustained, the repressive system crumbles".
These contrasting viewpoints are merely academic at this point, given that Cameroon government authorities have already swung into panic mode and have devised various means to quell down the September 22 uprising, which only seems to be gaining momentum in and out of the country.
Yaoundé on high alert!
The panic in Yaoundé is palpable as days before September 22, security agents were deployed across major cities to ensure no protest takes place. "The panicking Yaoundé government has militarized the whole of the capital city. The government has instilled an aura of terror and fear all over," said a Yaoundé resident. Protest police and anti-riot vehicles can be perceived at almost all major roundabouts and street corners of Yaoundé, the political capital of Cameroon. Sporadic systemic checks of citizens' phones, I.D cards, and houses are constantly done. "Amongst the Yaoundé city dwellers, it is equally rumoured that any person seen walking round town with any party uniform except the CPDM is arrested," an MMI reporter on the ground has hinted. The scenario is not different in other towns like Douala and Bafoussam – the strongholds of Maurice Kamto's Cameroon Renaissance Movement (CRM) party.
All these military preparations to counter a civilian protest only serve to confirm the longstanding contradiction that has become the mainstay of Cameroon's profile. A country that claims to be a 'democracy' yet will do everything autocratic to quell a democratic exercise. There is no gainsaying the fact that protest is democracy at its best. For many disenfranchised Cameroonians, engaging in public protest is sometimes the only meaningful pathway for them to democratically express themselves. This reasoning is based however, on the assumption that the regime in Yaoundé has any interest in promoting participatory democracy.
Sadly enough, the contradictions only deepen, as it appears to be different strokes for different folks as far as the regime is concerned.
Government, Pro-Biyaist brandish threats
As if militarising the cities is not enough intimidation, the government of Cameroon has issued a stern warning threatening to sentence violators of an order to desist from the protest to life behind bars.
In a release last week, the Minister of Communication, Rene Emmanuel Sadi said the calls for peaceful protests violate law no. 2014/028 of 23rd December 2014 condemning acts of terrorism and punishable by the penal code.
"…no demonstration can be considered peaceful when its declared intent is to trigger an uprising and overthrow the democratically elected Republican institutions," Sadi said, adding that, "…the defence and security forces will take every necessary step to strictly maintain law and order as well as social peace" he adds. What Rene Said fails to explain is how a popular insurrection by the same people who are supposed to have elected the president, translates into an act of terrorism.
Rene Said was not alone in making that public gaffe, as Public Health Minister, Manaouda Malachie sought to use health excuses to challenge the protests saying it was going to lead to another spike in the coronavirus pandemic. According to Dr Malachie, "…Such protest calls are clearly a breach of health measures and are likely to endanger the lives of our compatriots by exposing them to contamination by the deadly virus… the ministry of Public Health therefore calls on all public authorities to ban protests planned within their respective areas of jurisdiction…" It is rather rich of Cameroon, a country that at best of days suffers from overcrowded prisons, markets, public transport systems and housing, to use health concerns as a justification to stop a protest.
The Governors of the Littoral, Centre and the West Regions were not to be left out of the circus as they have also banned all protests within their jurisdictions. There have equally been visible actions by the local authorities, like the Wouri Senior Divisional Officer in Douala who gathered bike riders and convinced them to boycott the calls to protest. Interestingly, but not surprising, "that was not done for free, they were paid for the job," a source testified.
These nefarious outings will not be complete if Minister of Territorial Administration Atanga Nji Paul, does not add his voice to the chorus. He was rather poetic when he said he will "pour his bees on the streets ready to sting any protesters seen on the streets on September 22". The irony in the statement is not lost on the fact that there is a growing anti-Biya movement among the Cameroonian diaspora who call themselves 'Bees' reading to sting Biya out of power. September 22, 2020 might end up going down in history as the clash of the bees.
Protest amid a divided opposition
The white elephant in the room, however, remains the myriads of political parties that are littered across the Cameroon political landscape. Where are they in the midst of all these; what are their views; on what side are they leaning? The questions are many, the answers are almost non-existent.
Nonetheless, it should be recalled that there were more than 253 registered political parties in Cameroon, as of the last count, but fewer than 10, however, have significant levels of support, and about five of them, have seats in the National Assembly. Other opposition parties are either led by members of the current regime or have publicly aligned with the ruling Cameroon People's Democratic Movement (CPDM). Across local and social media platforms there has however, been a war of words among parties and politicians. In the midst of this melee of words, one thing that remains certain is that the clock is ticking and September 22 is getting closer with each passing second.
That would however, not be before the G20 political movement, a coalition of 20 parties who backed Biya's candidacy in the 2018 presidential election, denounced the impending protests describing it "a plan to destabilise the nation". This has been accompanied by anonymous threats that have flooded social media platforms from pro-government agents, promising death and incarceration and lethal punishments to potential protesters.
On the other side of the political podium however, are heavyweights such as Kah Walla of the CPP and the Stand Up For Cameroon activist movement and the Popular Action Party among others who have voiced their support for an action to "kick out Biya and usher in political transition". Kah Walla, who together with the group, Mothers of the Nation have been planning protests for a long time, has not confirmed whether they will be joining tomorrow's outing. She has however, been very clear that she sees peaceful nonviolent protests, culminating in genuine National dialogue, electoral reform and political transition, as the only way forward for a deeply fractured Cameroon.
Pro-Kamto factions maintain protest must take place
At a time when he needed it the most, Kamto got one of his major boosts from a defected Soldier, Etame Esuno whose video made rounds on social media on September 18. Esuno who called on his fellow soldiers to show restraint on protesters when they come out to protest on September 22 was categorical that "no Soldier has ever been compensated or awarded a medal for killing our brothers/sisters… even if you receive a medal for killing anyone, it will be a medal of shame" he said. "What they would be doing on September 22 will benefit the whole country, including we in the military, we cannot say we have the best of conditions in the barracks".
Similarly there has been a morale boast from the Cameroon diaspora who began showing themselves very willing to support any form of a political revolution to oust President Biya from Power in Cameroon. These started with massive Anti-Biya protests held on 19th September 2020, across various European countries like Germany, Belgium, France, Italy United Kingdom as well as in the USA and Canada. In August while addressing Cameroonians, Kamto made a clarion call to the Diaspora to mobilise and ensure Cameroon gets the change it deserves. " Cameroonians, at home….in the diaspora, get ready…" he said in a Facebook outing. This call has been repeated this evening by veteran activist Emmanuel Kemta, leader of BAS UK, who in an animated live broadcast, called on Cameroonians at home to take their destiny in their hands.
Anglophone leaders – where do they stand?
From the start, Anglophone leaders have made it utmost clear that Anglophones were not and should not involve themselves in any protest march organised by Maurice Kamto as they feel it may derail from the ultimate goal – independence. Muslim scholar and Anglophone activist Abdulkarim Ali says Anglophones who will engage in the protests are confused.
"Any Southern Cameroonian fronting for Kamto or making his affairs a business of Southern Cameroonians is either ignorant or simply confused. Confusing a revolution and a liberation struggle is devastating and bewildering. Again, we should always stop and define the words we use… Personally I will argue that Kamto and his types and his types are catastrophic to the essence of our very being. This man is worse than the Bulu junta. He has shown beyond the shadow of doubt that he is a colonialist and not simply an assimilator…" he ranted. There is no logical basis for such diatribe, given that there exist no empirical evidence to justify comparisons between Kamto and the current regime.
Another Anglophone activist on twitter was equally as blatant on the issue. "Anglophones don't have anything to do with Kamto's Protest. We are done with La Republic du Cameroun. Individuals can go there for their personal reasons. As a people recognised under the International law as British Southern Cameroons (Ambazonia) Kamto's march does not count. We're out!"
Some Anglophone activists have however, questioned this line of reasoning, arguing that if Biya is the one who declared war on Anglophones, allowed the degeneration of the current crisis and oversaw the systemic erosion of Anglophone educational, legal and economic structues, then surely, any action targeting Biya is laudable. "There are broadly two categories of people in Cameroon, the oppressors and the oppressed. Kamto, Kah Walla and all ordinary Anglophones and people in the North of the country, fall in the first category and all those supporting the regime fall within the second category. It is therefore illogical to blame Biya for our problems yet refuse to join forces with others to overthrow him" says the Anglophone activist.
A Repeat of History?
As hours turn to minutes and minutes to seconds, September 22 gets ever closer. The tense atmosphere is not abating, especially given the Press Briefing by Rene Said this evening, that further confirms the Cameroon government is in deep panic over what the planned protest might be. They are not likely to have much sleep tonight especially thinking about how similar repressive measures were used in the Anglophone regions but woefully failed, leading to an armed conflict which has ravaged the country till date.
These theoretical debates have done little to quell the consternations that have clouded the minds of Cameroonians since the country's leading opposition figure, Maurice Kamto made known his decision to stage a nationwide peaceful protest. What has been widely worrisome, have been the fact that history seems to be repeating itself. It was on September 22, 2017, exactly three years ago, that Anglophones defied the odds and come out in their hundreds of thousands in what has become the watershed moment in the history of the Anglophone crisis. That protest which quickly degenerated into violence as security forces fired and killed many unarmed civilians, marks one of the significant turning points from a peaceful revolution to an armed conflict, that how now crippled the two Anglophone regions.
It is yet unclear why Kamto chose the date of 22 September 2020. Some are of the opinion that he did so to match the date of 23rd September that had been previewed by the Stand Up for Cameroon movement, without appearing to follow them. However, there are many among Anglophones who feels his choice of date strives to erode the historical moment that ordinary Anglophones showed without a shadow of doubt, their disdain for the status quo. Some optimists rather think it is a good choice as it shows that Kamto is showing solidarity with the Anglophones who stood up on that date.
You can help support our work through the link below