Cameroonian pressure group, Brigade Anti-Sardinards (BAS, UK) have in strong terms asked the French government in a petition through the French ambassador to the UK, to stop all forms of political involvement in Cameroon.
The BAS insists that the French government has been using the French ambassador to Cameroon to impose its authority on the country, demanding an end to such foreign dominance.

They equally implored amongst others for the French government to end its support to the 'dictatorial' regime of president Biya; to end the proliferation of arms within Cameroon and the French African region; to end French dominance and exploitation of Cameroon using the unpopular FCFA; to condemn the rape, torture and other forms of violence perpetrated by the Cameroon defence forces, including arbitrary arrests made by military in troubled zones of the country.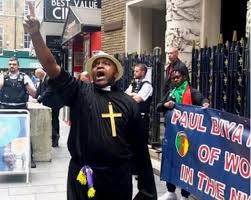 The petition by BAS comes in amidst rumours going about the country of a constitutional change in the country and a probable presidential shakeup, probably to be overseen by France.
The pressure group has equally demanded that the French ambassador Christophe Guillhou becomes less involved in differing issues concerning the state.
The ambassador according to BAS is gradually becoming the government spokesperson. He was the one who first gave Cameroonians the president's opinion about the ravaging pandemic while the president himself had not yet mentioned anything about it.
Christophe Guilhou too was the person who gave out the president's word on the death of the Buea based journalist Samuel Wazizi.
All of these according to BAS are deliberate distractions to Cameroonians as France prepares to organise a regime change.
Mimi Mefo Info
You can help support our work through the link below