Social media has been awashed with images of 40 commercial bike riders recently arrested and accused of having links with separatist fighters.
While the narrative has largely been against them, they are now beginning to speak for themselves, making startling revelations.
One of the riders who escaped by struck of luck has revealed they had been intercepted as they left Bamenda to bury two of their colleagues from Oku, executed by soldiers on the night of April 22, 2
2022
They were taken in by members of the dreaded Rapid Intervention Battalion, BIR.
"It was a frightening scene. They were just hitting them with guns and other objects," Rene, the lucky bike rider explained.
"… Nothing the riders said," he added, "meant anything to them." To him, it is a violation of their right to give their colleagues a decent burial: "It is our tradition to bury our loved ones irrespective of who is responsible for their deaths. This is clear prove that we are all seen as Amba fighters. Let's see where it takes us to" he said.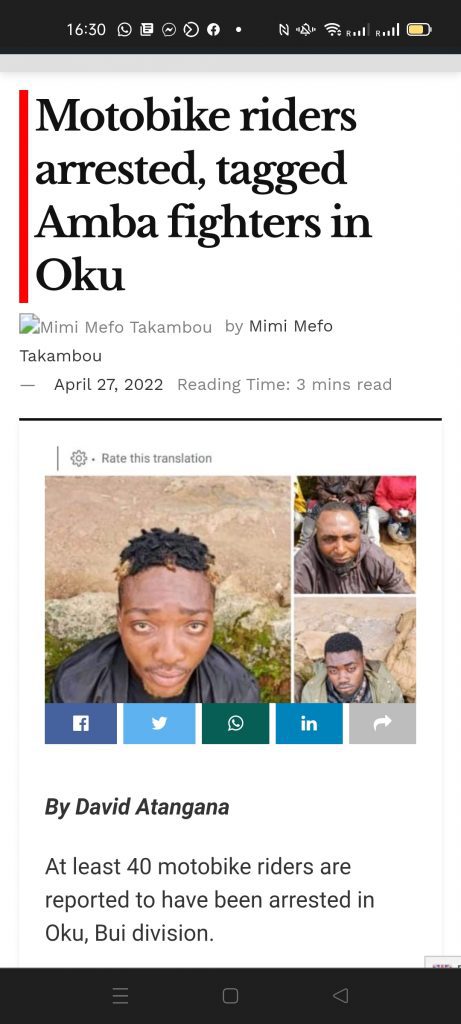 Sources revealed that one of the commercial bikers who had an accident some time ago and sustained a wound on the leg, was also taken in.
The wound he sustained, it is said, is now being claimed to have been a result of an attack on them (separatist fighters) by government soldiers.
Some of the riders intercepted are said to be held at Legion up station in Bamenda while others have been taken to the BIR camp in Bafut.
Mimi Mefo Info
You can help support our work through the link below