The operations coordinator of Doctors Without Borders for Central Africa, Emmanuel Lampaert says the humanitarian organization have been forced to withdraw its teams from the North West region of Cameroon.

In a press release dated August 3, 2021, Emmanuel Lampaert says "We cannot stay any longer in a region where we are not allowed to provide care to people here"

"Unfortunately we cannot keep our staff on standby any longer, so we have no choice but to withdraw our team", Emmanuel Lampaert said.

Prior to it's suspension in December 2020, Doctors Without Borders had provided free emergency medical care and ambulance services in the North West region since 2018.

Their suspension came after a series of allegations that the organisation of supports local armed groups; allegations that Doctors Without Borders has consistently and categorically rejected in meetings with authorities of the Cameroon government and in public.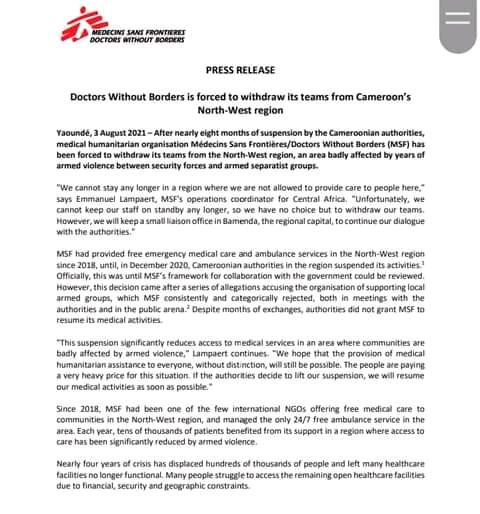 With the decision to withdraw their teams to from the North West region, Emmanuel Lampaert noted that the local communities will be greatly affected.

"This suspension significantly reduced access to medical services in a area where communities are badly affected by armed violence. The population is paying a very heavy price for this situation", he said.

Since 2018, Doctors Without Borders had been one of the few international NGOs offering free medical care to communities in the North West region with a 24/7 free ambulance service. Thousands of people in the crisis hit region benefited from their support.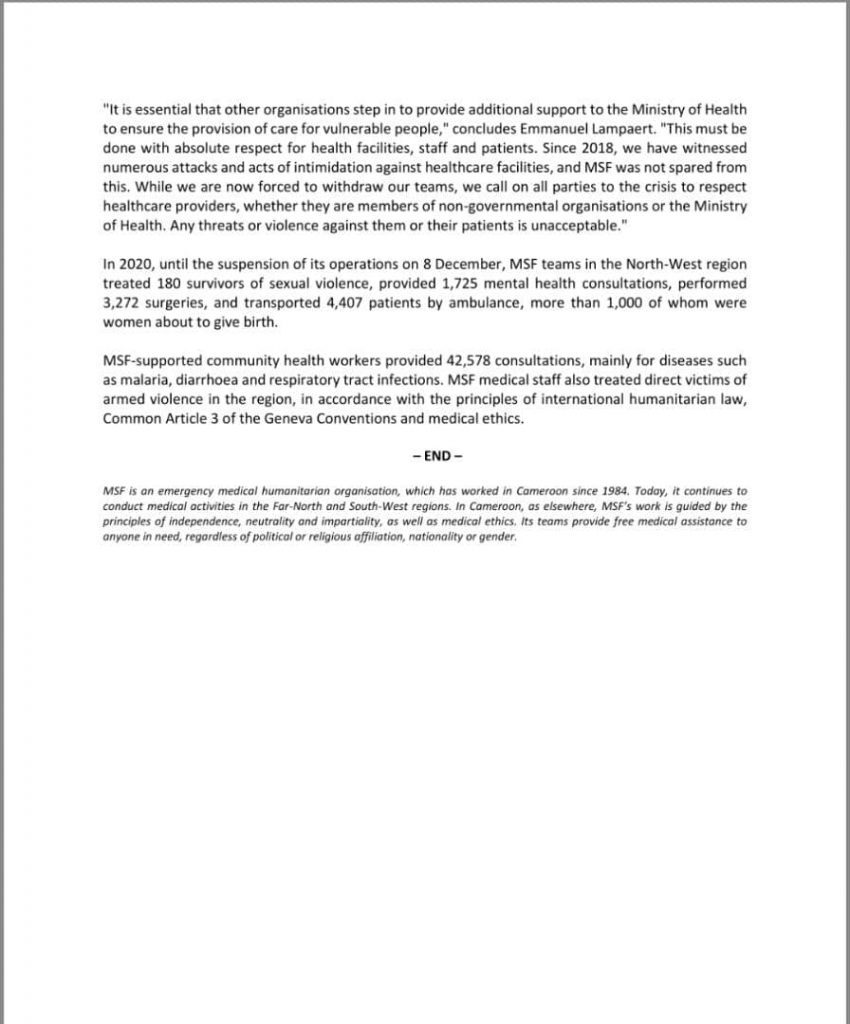 Emmanuel Lampaert called on other organisations to step into help the Ministry of Health to ensure the provision of care to the vulnerable persons.

However, Doctors Without Borders says they will keep a small laison Office in Bamenda, regional capital of the North West region so as to continue to dialogue with the authorities.

On December 8, 2020, North West governor Adolphe Lele Afrique signed an administrative order suspending the services of the humanitarian organization in the region. Despite meetings with authorities of the region and the country, the suspension has not been lifted.
You can help support our work through the link below