A few days back, several persons took to social media to condemn Cameroon's higher education Minister Jacques Fame Ndongo for asking that a lecturer at the University of Buea be suspended for setting an examination question on the Anglophone crisis.
The lecturer in question, Barrister Nkongho Felix Agbor said the Minister's call for his suspension was not only about the examination question, but also because of his activities in the fight against human rights abuses in the country.
Barrister Nkongho also said he was not going stop teaching at the University till the school authorities told him so. He would later receive a summons to appear before a disciplinary panel this morning for "for non-compliance of professional obligations."
In response to the summons, Barrister Nkongho says his first observation is that the summons "flouts laid down procedures and disrespects legal provisions."
He refers to section B of a Ministerial circular on the disciplinary council and procedure for teachers which reads "It is incumbent primarily to the Registrar, on the occasion of a disciplinary council before which a teacher must appear, to investigate the matter. In this wise, he must obligatorily hear the suspect on the basis of a report [. . .]."
Being the suspect in this case, Barrister Nkongho says he was never invited for the purpose of any such prior investigation. In addition to his other justifications, he says "the letter inviting me to "the Disciplinary Hearing" was served this May 5, 2020 at 12.08 PM". This gave him just a day as opposed to five days required he adds.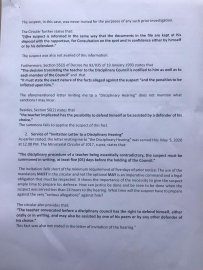 "It follows, that the letter inviting me to appear before a disciplinary panel disregards relevant instruments and violates my rights as a teacher in the University of Buea. It also violates my fundamental human rights for a fair hearing" he asserts.
Barrister Nkongho adds: "As an advocate for justice and respect of the rule of law, should i honour the said invitation, which is a manifest and gross violation of the law, it would amount to setting the wrong precedent which will hurt and have a negative impact on teachers who in the future may be invited without any regard for due process to appear before the disciplinary panel and the long-term credibility of our academic institutions."
After turning down the invitation to attend the summons today, the civil society activist says he remains predisposed to defend himself "either orally or in writing, before any competent Disciplinary panel when the provisions of the relevant instruments have been complied with."
"Not everyone can be bullied or intimidated. The earlier they know that the better for them" He wrote moments ago on twitter.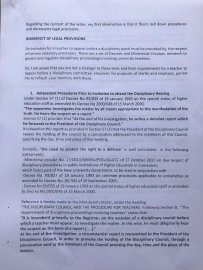 In 2017 Barrister Nkongho Felix was one of other Anglophone leaders arrested and jailed in Yaounde for his role in the Anglophone crisis. Even after being released, he has continued to advocate for the respect of human rights through his Center for Human Rights and Democracy in Africa (CHRDA).
Mimi Mefo Info
You can help support our work through the link below