By Tata Mbunwe
Transparency International's Corruption Perception Index for 2022 has ranked Cameroon the 21st most corrupt African country, with a score of 26/100 in terms of transparency.
The index that uses experts to evaluate perceived level of corruption in 180 countries and territories in the world ranked Cameroon the 39th most corrupt country in the world.
While Somalia (12/100), Syria and South Sudan (13) occupy the bottom rank in terms of transparency, Denmark (90), Finland and New Zealand (87) are top on the transparency rank.
The CPI detects high levels of corruption in Sub-Saharan Africa, with the region scoring an average of 32/100.
In the CEMAC region, Equatorial Guinea (17/100) takes the corruption lead, followed by Chad (19), Congo (21), Central African Republic (24), Cameroon (26) and Gabon (29).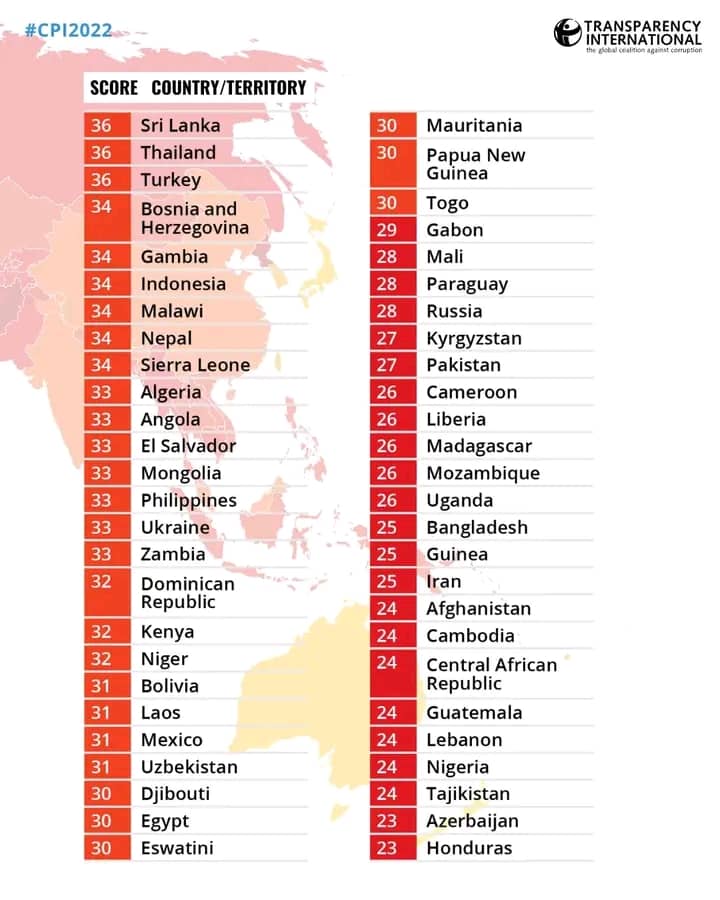 Africa's largest economy, Nigeria, is ranked the 14th most corrupt country on the continent with a score of 24/100.
Seychelles is perceived to be Africa's least corrupt country and the 23rd in the world, scoring 70/100. This is followed by Botswana and Cape Verde (60).
"Corruption is a global issue. Corrupt money ends in the London city, or in the art market in Geneva, or in the New York real state or in the luxury industry in Paris," remarked Delia Ferreira, Chair of Transparency International.
The CPI scores countries based on how corrupt their public sector is perceived to be. This is derived by interviewing experts and getting surveys of business people, not the general public, Transparency International said.
The index is being published at a time when endemic levels of corruption have been reported in Cameroon's public sector, especially regarding the management of COVID-19 funds.
The country's finance, education, health, and road transport sectors were rated by a 2022 report to be among the most corrupt.
On Tuesday, January 31, Cameroon's former Minister of Public Works, Edgar Alain Mebe Ngo'o, was found guilty by a court for over billing public contracts to the tune of 29.9 billion francs CFA.
President Paul Biya has often been criticised for not taking concrete measures to limit corruption in the country.
In his new year speech, he called on the government to intensify the fight against corruption in the country.
Some years back, anti-corruption agency, CONAC, was set up in the country to monitor corruption but its efforts have been limited only to that as it has no powers to punish perpetrators.
Many at times, people go free after commiting open acts of corruption.
Mimi Mefo Info
You can help support our work through the link below