This criminal gang which specializes in the falsification of documents found itself in the Gendarmerie dragnet following a security operation that was launched on January 19, 2021, in the Capital city. This gang was reportedly specialized in the production of everything and anything to make earnings. They even reportedly took on the daring task of falsifying documents that persons were going to need for a Gendarmerie recruitment.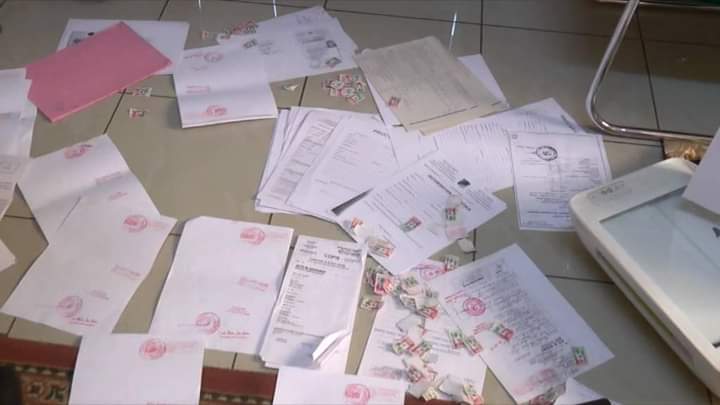 Most daring is the fact that this has gang had successfully installed one of their falsification units not far away from the Divisional Officer's office in the city of Yaoundé. Their merry days were abruptly cut short when the security operation carried out by the Gendarmerie group raided their scene. About 10 individuals were arrested and with them was seized hundreds of falsified documents such as seals and false stamps.
The Gendarmerie also seized from them a laptop, a printer and a scanner with which they successfully carried out these falsification works on. A receipt booklet which they used to issue to their clients as proof of transaction was equally collected from them. Looking at a track record of their transactions, it was noticed that most of those who visited this gang were either candidates seeking for documents to apply for an Entrance examination, and students who forged failed results into passes.
Upon apprehending these criminals, the Divisional Officer vowed in string terms to fight and eradicate such practices as well as many other forms of crime from the city of Yaoundé. Security forces have also promised that such sporadic crackdowns are going to be made in the coming days at undisclosed locations.
You can help support our work through the link below