Cameroon's Minister of Transport, Jean Ernest Masséna Ngalle has banned the operation of the transportation Company 'Yango' throughout Cameroon.
The information is in a press release signed by the Minister of Transport on February 8, 2023.
According to reports, the decision was reached in the evaluation meetings of the ministry.
The ride-hailing, delivery, and e-grocery services operating in Europe, Africa, the Middle East, and South America have been operational since 2021.
According to the Minister's release, "public passenger transport activities operated via the YANGO digital platform are suspended until they are brought up to standard, in accordance with the provisions of Law No. 2001-015 of July 23, 2001, governing the professions road carrier and road transport auxiliaries."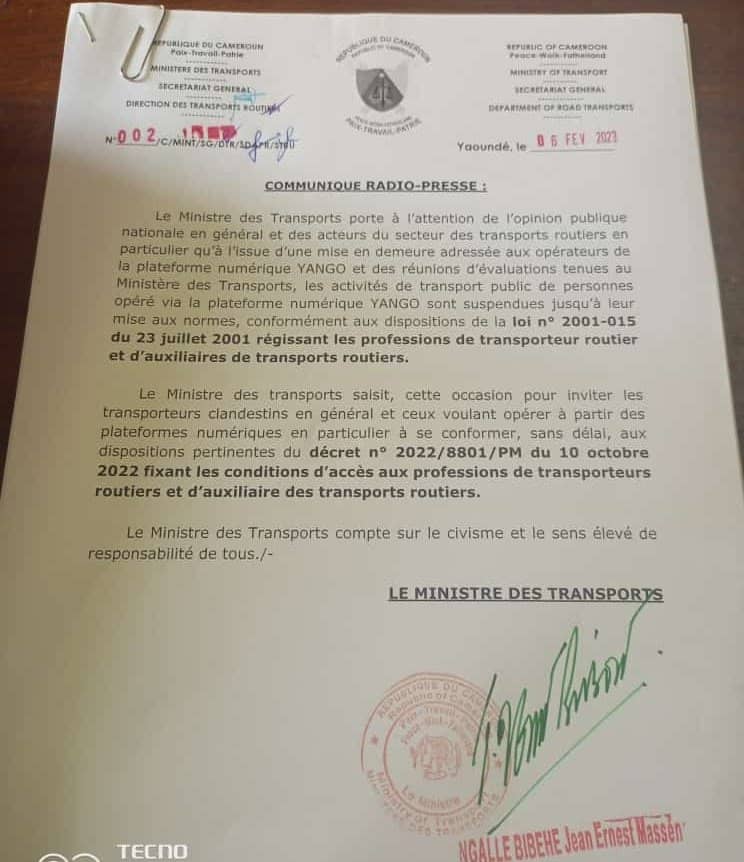 The Minister equally seized the opportunity to call on clandestine carriers in general and those wishing to operate from digital platforms in particular to comply, without delay, with the relevant provisions of Decree No. 2022/8801/ PM of October 10, 2022.
This according to him will set, "…the conditions for access to the professions of road haulers and road transport auxiliaries," the release stated.
It should be noted that Yango for the past few years has been a bone of contention to most taxi drivers in Cameroon who believe its presence has reduced the number of customers they now have.
By Amina Hilda
You can help support our work through the link below