The ceremony to award attributes to members of Parliament at the National Assembly of Cameroon has been postponed.
The ceremony initially billed for March 13th 2020, has been pushed to Monday march 16th 2020, following a communique released by the Secretary-General of the National Assembly, Abdoulaye Daouda.
Abdoulaye Daouda in his release did not state reasons for the last minute's postponement, but observers see the hand of outgoing house Speaker Hon Cavaye Yeguie Djibril.
Sources say 80-year-old Cavaye Yeguie Djibril currently hospitalised in Paris France, could not fly to Cameroon on or before the initial Friday, March 13th, because of deteriorating health conditions and hence influenced the change in date.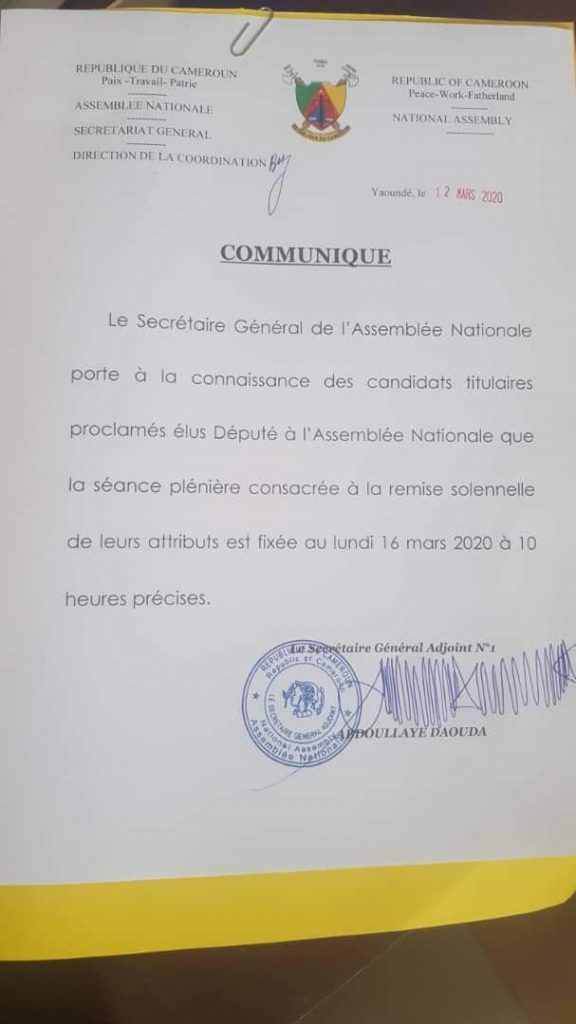 Close sources say French doctors refused to release him despite pressure from his close aides, who wanted him to be present to consolidate his position as House Speaker on Friday, March 13th, 2020.
Critical Cameroonians who share the above point say the ceremony at the National Assembly was cancelled in order to enable the presence of Cavaye Yeguie Djibril.
The SG of Cameroon's National Assembly, Mimi Mefo Info understands, maintains a very close relationship with Hon Cavaye Yeguie Djibril who has been speaker of the National Assembly in Cameroon for over 28 years.
His position has come under much criticism from Cameroonian and some MPs who think he should be replaced by a younger MP.
Mimi Mefo Info
You can help support our work through the link below