Cameroon's Intermediate Lions brace up for a decisive African Nations Championship – CHAN group stage match against Burkina Faso this Sunday, January 24th, and a victory and a draw recorded in their first two matches.

As the lions intensify training, there have been criticisms on the criteria used by the head coach of the team to select players that played against the Eagles of Mali Wednesday, January 20th at Amadou Ahidjo Stadium in Yaounde.

In a post on the tweeter account of Njie Enow Ebai, the head of sports service at the national radio in Cameroon questions why superstitious beliefs are given pride of place in football.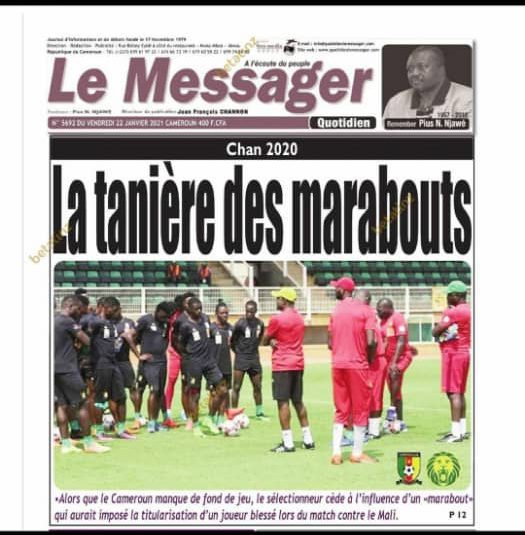 According to the post, Njie Enow Ebai questions, " How do you change your team a few minutes before making it public because Alangmimbum said X player with so number will bring luck to the team? . Astronomers everywhere! ".

Though the sports journalist has not mentioned a name in the tweet, commentators reading between the lines think the post addresses Coach Martin Ndtougho Mpile of the intermediate Lions of Cameroon.

"There are just too many superstitious persons around the Cameroon team at Total CHAN2020," Njie Enow Ebai added.

According to Christ Wango; a football fan and supporter of the lions, Njie Enow Ebai's observation and post is valid and should be given due attention. He questions the importance of superstition without results. " Cameroon played a draw against Mali. If the use of black magic is anything to go by, Cameroon was to win the match. "

To "le Message" daily newspapers publication of Friday, January 22nd, 2021, "Cameroon lacks good playing style, the coach has given in to Marabouts (black magic) by filling in some players in the match against Mali".

In an interview granted to Cameroon Radio and Television, Coach Martin Ndtougho Mpile says there is calm and concentration in the Lions' den ahead of the match against Burkina Faso.


Cameroon has four points after playing two group stage matches. The lions defeated Zimbabwe one goal to zero during the opening match on the 16th of January and played a 1/1 draw against Mali four days after.


Mbatho Ntan
You can help support our work through the link below