For days now the world has been witness to the racist attacks meted on foreigners and Africans in particular in China.
Reacting to this, the All African Community In Guangzhou says "it has become not only necessary but a matter of utmost urgency to inform all the relevant Chinese Authorities, African Embassies, Consulates and Organizations of the ordeal African in China are going through at the moment."
Describing the treatment of Africans as "hatred, and outright discrimination", the All African Community says the discrimination had started way before the coronavirus pandemic."Now, with the pandemic outbreak many are being turned out from their homes and those living in hotels are being evicted. Many are living in the streets."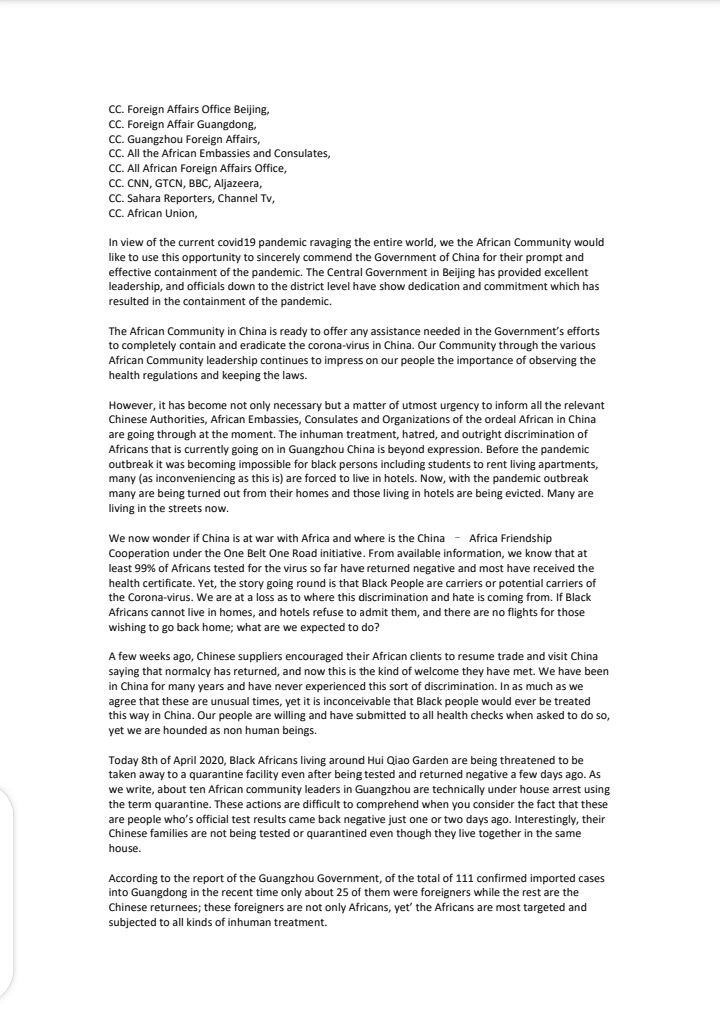 "We now wonder if China is at war with Africa and where is the China – Africa Friendship Cooperation under the One Belt One Road initiative." Highlighting that at least 99% of Africans tested of the virus have been declared negative, the body says "the story going round is that Black People are carriers or potential carriers of the Corona-virus. We are at a loss as to where this discrimination and hate is coming from. If Black Africans cannot live in homes, and hotels refuse to admit them, and there are no flights for those wishing to go back home; what are we expected to do?"Some African community leaders in Guangzhou are not left out, as about ten of them are being held indoors "using the term quarantine."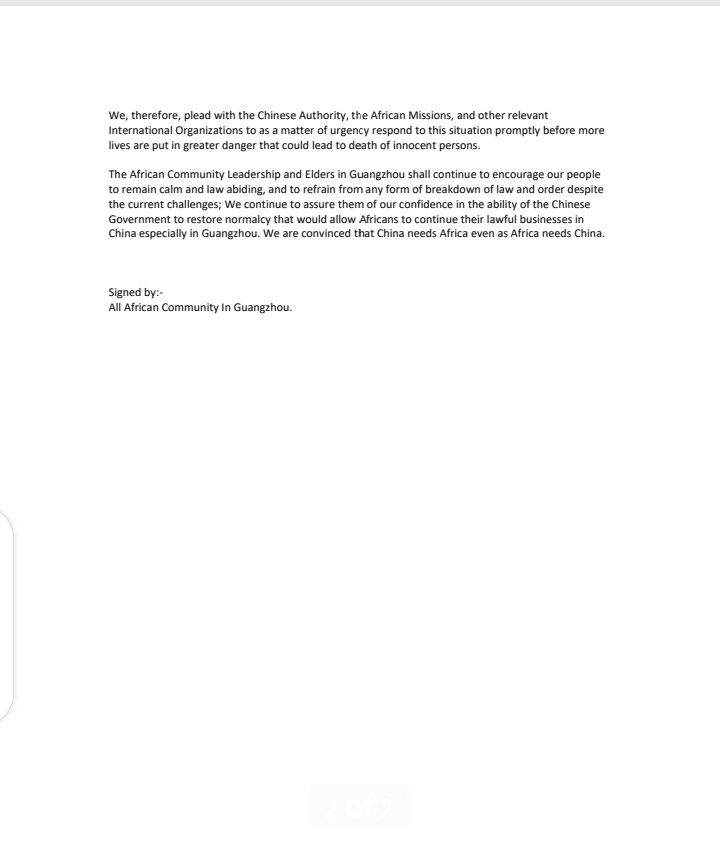 " These actions are difficult to comprehend when you consider the fact that these are people who's official test results came back negative just one or two days ago." Encouraging Africans in the Asian nation to remain law abiding and hopeful, the All African Community says it is ready "to offer any assistance needed in the Government's efforts to completely contain and eradicate the corona-virus in China."
"We continue to assure them of our confidence in the ability of the Chinese Government to restore normalcy that would allow Africans to continue their lawful businesses in China especially in Guangzhou. We are convinced that China needs Africa even as Africa needs China."
One of the key actors in the recent happenings has been the Chinese media that has been promoting propaganda against foreigners. In a comic strip that has gone viral, Africans are depicted as trash and dumped into trash bins. This too has been followed by several hate comments online with some encouraging the brutalising of Africans.
Despite the outcry, Chinese authorities have remained silent as Africans are kicked out if hotels, apartments and are not even permitted to visit some markets.
Mimi Mefo Info
You can help support our work through the link below