A Chinese national, Geng Quangrong, 47, is standing trial for culpable homicide in Nigeria for killing his girlfriend, Ummukulsum Sani, 24.
Quangrong, earlier told the court that he was jilted twice by the deceased. According to him, he transferred N60 million to her GT Bank account, for personal use, aside from another N18 million he gave her to run a business and another N10 million he gave her to buy a car upon her demand.
He told the court that he killed his girlfriend, Ummukulsum Sani, while he was trying to free himself from suffocation.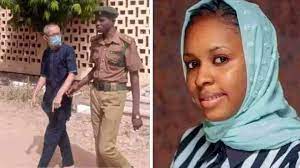 The incident reportedly occurred in the presence of the late Ummukulsum's mother and sister.
Standing before Justice Sanusi Ado Ma'aji of Kano State High Court, Quangrong said he was held under pressure by his late girlfriend and had to fight back:
"On that day, I had gone to return her dog and that was what actually brought me to her house that night of December 16, 2022. I was left outside in the rain for about 30 minutes. At a point, the younger sister of late Ummukulsum, Asiya came out to collect the dog but denied me entrance.
"After that, the mother later came to the gate to allow me in. As soon as I came in, the dog ran back to me. It was that moment Ummukulsum came out from the living room, and started raining abuses and slapped me severally. She later rushed back to the room and came out again with a sharp knife, attempting to stab me.
"She moved closer to me with the knife, I became jittery and quickly kept the dog away. On getting closer to me, I had to grab the knife in her hand before she struck. At that point, we both struggled with the knife. Eventually, I was able to twist her hands and took possession of the knife. As sooner as I dispossessed her, she then grabbed my penis and pulled me with it into one of the rooms.
"As she was dragging me into the room, she was abusing me, calling her sister to invite the police to arrest me for attempting rape and that she would also invite immigration to deport me. When we got to the room, she pushed me onto the bed and held me firm on my neck. It was at that moment I got frustrated and tried to release myself at all costs.
"Already, I had lost my eyeglasses and found it difficult to see well and the light in the room was not very bright." So, there was a blurred vision in the room. Although I didn't intend to hurt her, I felt suffocated and wanted to escape from the room. That was how I pulled out the knife in my hand and stabbed her on her shoulder."
You can help support our work through the link below