The President of the Cameroon Renaissance Movement party (MRC), Prof. Maurice Kamto was at the country's presidential palace recently.
His visit according to MRC's Secretary General was to drop a correspondence "on sensitive information about issues related to national interest and national security."
But images of Kamto's presence at the presidency, went public — and some have questioned why he went to the presidency in the first place.
Others, however, have concluded that he was never welcomed, leading to him being chased out of the Etoudi palace.
But Ndong Nveh Christopher, Secretary General of the MRC has issued a statement today describing both claims as: "biased and grossly inaccurate."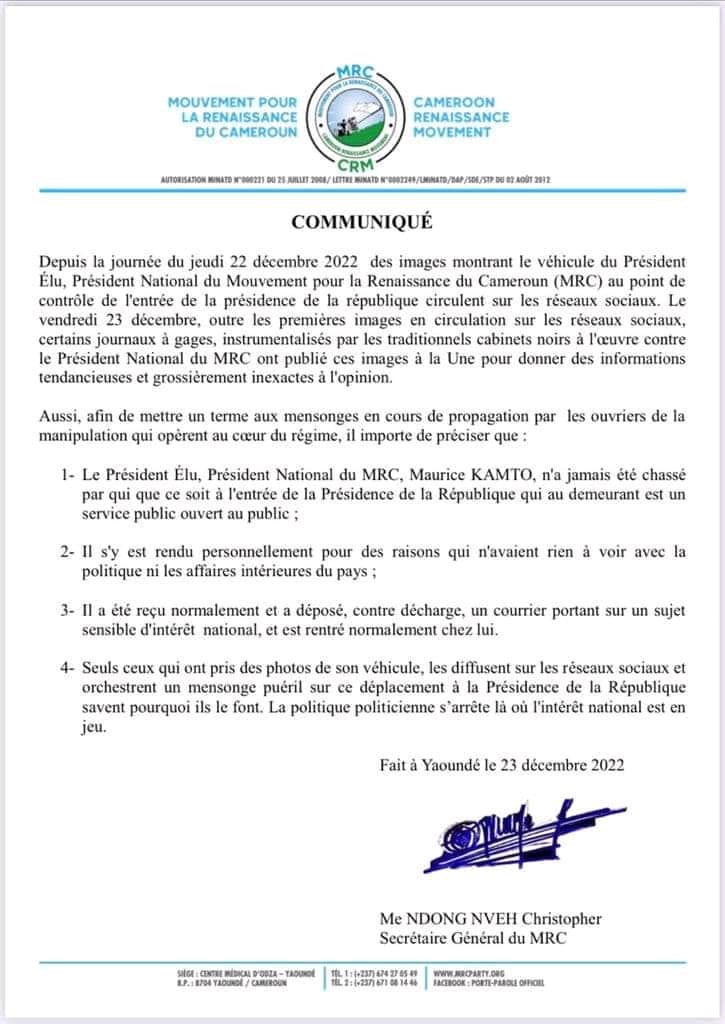 Ndong said the President-Elect, referring to Maurice Kamto, "was never chased by anyone at the Presidency of the Republic which, moreover, is a public office, open to all Cameroonians."
"He was received at the Presidency where he dropped the letter which contained issues of national interest. He later returned to his home," Ndong noted.
He concluded that the images and information circulating on social media concerning his visit to the Presidency are solely meant to tarnish the image of Prof. kamto.
By Amina Hilda
You can help support our work through the link below