Cameroon has lost a political pillar in the person of Paul Eric Kingue.

Kingue, who was Mayor for Njombe Penja in the Littoral Region, died at the military hospital in the wee hours of Monday, March 22, to the shock of many.

Reports say the head of the Mouvement Patriotique pour un Cameroun Nouveau (MPCN) died of COVID-19.

One of the things he would forever be remembered for is his romance turned sour with the Cameroon Renaissance Movement, MRC.

Prior to the 2018 presidential election, Kingue entered an alliance with the Kamto-led party.

Both men joined forces with other political actors to unseat long-serving President Paul Biya.

Both men and other MRC bigwigs would later spend 10 months at the dreaded Kondengui Prison for organizing protests against the election which saw President Biya emerge the victor.

Fall out with MRC

The Kingue-Kamto alliance however turned sour shortly after their release from prison.

While Kamto and his MRC bigwigs turned to their supporters to regain their strongholds and restrategize, Kingue had other plans.

Apparently falling out with Kamto over diverse issues, including ways to unseat the regime, Kingue did not only leave the party but chose to go the Biya way.

In many of his outings, he spared no effort in revealing what he said were Kamto's antics. Kamto's actions, he said, had been influenced by money.

He further accused the politician of lack of transparency and threatened to make more revelations.

Other MRC bigwigs including Celestin Djamen also walked out of the party over differences with Kamto.

In December 2020, Paul Eric Kingue announced he had received the sum of 20 million FCFA from President Paul Biya.

The amount, he stated was to be used to foster education to create School TV Africa, a 100% educational platform.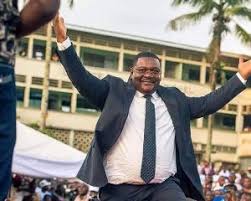 A loss for Njombe/Moungo

Eric Kingue's death is not only a blow to the country's political landscape, but to the Njombe Penja community in particular.

A no-nonsense administrator, he was known to often stand up for the interest of the common man. This was demonstrated among other instances, in June last year when he suspended the activities of the mining company, SETP.

He put a halt to SETP's activities for 15 days, faulting the enterprise for "illegal exploitation activities".

He further demanded a monthly payment of between 3 million and 5 Million FCFA within the framework of a shared management agreement between the quarry operator and the municipality of Penja.

He quit the scene at the age of 55.

Mimi Mefo Info
You can help support our work through the link below