A groundbreaking partnership between Seven Academy and US-based business and information security professional certification organization EC-Council has been signed.
The long-awaited partnership was reached today Friday, June 2020 between the CEO of Seven Academy, Estelle Yomba and EC-Council Channel Manager for Africa, Jobby Varghese.
This comes after EC-Council's monitoring, review, and approval of the training model of Seven Advanced Academy as a lead professional IT training institute in CEMAC.
EC-Council is the leading global information security certification body that has trained and certified the world's best ethical hackers among others.
Jay Bavisi president and CEO of EC-Council launched the flagship program, Certified Ethical Hacker (CEH), which created the ethical hacking industry in 2002. It operates in over 140 countries and has over 700 partners across the globe. Seven Academy now becomes one of its official global partners.
Since the launch of CEH, EC-Council has added industry-leading programs to its portfolio to cover all aspects of information security, including EC-Council Certified Security Analyst (ECSA), Computer Hacking Forensics Investigator (CHFI), Certified Chief Information Security Officer (CCISO), among others.
EC-Council Foundation, the non-profit branch of EC-Council, created the Global CyberLympics, the world's first global hacking competition.
EC-Council Foundation also hosts a suite of conferences across the US and around the world, including Hacker Halted, Global CISO Forum, TakeDownCon, and CISO Summit.
It has been the goal of Seven Academy through the leadership of its selfless CEO, Estelle Yomba to bring the international certification of cybersecurity experts right to the doorsteps of Cameroonians.
According to the director of communications George Munang, the signing of this laudable partnership makes Seven Academy the lone internationally "Accredited Training Center" authorized by EC-Council to deliver the Training on EC-Council products using EC-Council Official Courseware.
In this token, lovers of cybersecurity in Cameroon and Africa will now benefit the following:
● Low-cost training in cybersecurity with the same international quality training
● Access to internationally recognized in-demand cybersecurity certifications in Cameroon for the following programs:
○ Certified Network Defender (CND)
○ Certified Ethical Hacker
○ Computer Hacking Forensic Investigator
○ EC-Council Certified Security Analyst
○ Certified Network Defence Architect
○ Advanced Penetration Testing
○ Center for Advanced Security Training (CAST) Courses 614/CAST 611
○ Certified Incident Handler
● Free mentorship to taking EC-Council Certified Ethical Hacker (CEH) exams
● Access to cybersecurity jobs and many other advantages.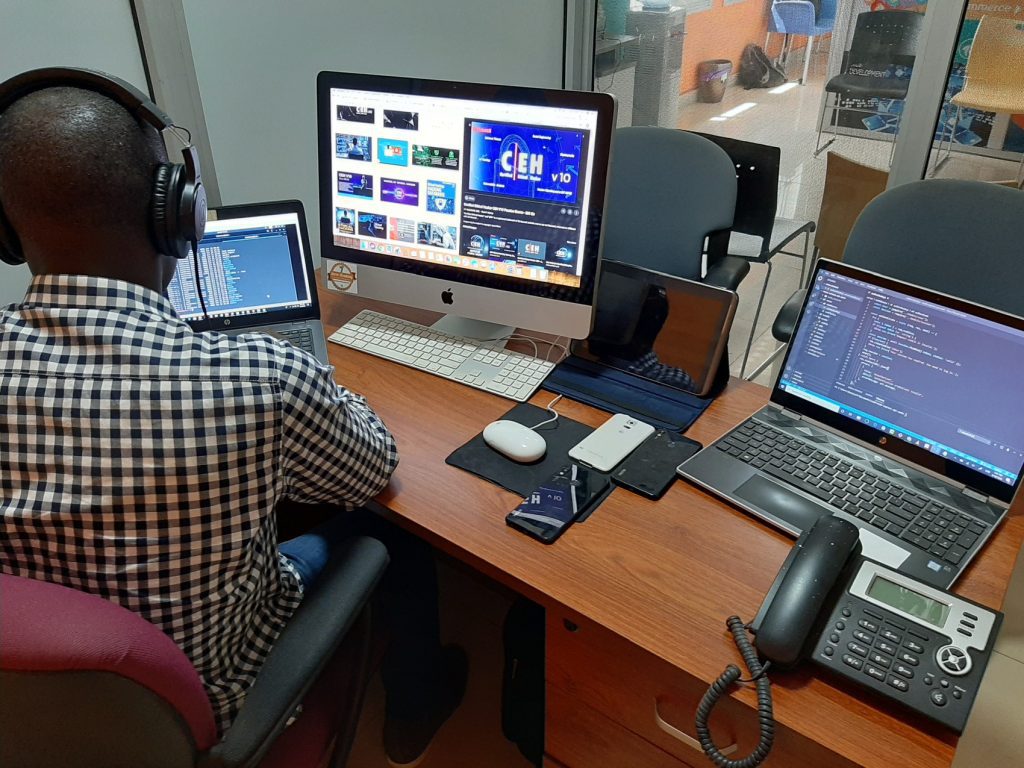 "This partnership is coming at the right time. Many do not have a clue of what cybersecurity is all about and I think this will be an eye-opener to Cameroonians, in particular, to get into cybersecurity training" says Tambe Clifford.
Mr. Tambe is the IT Security instructor at Seven Academy. He is a cybersecurity expert by profession holding several internationally recognized certifications from EC-Council. He Studied from One of the best training institutes in New Delhi-India.
"As a mother and considering the fact that our CEO is a woman in tech, I strongly advise young women to exploit this opportunity and get into cybersecurity, it is not just a field for men" says the DG of Seven Academy, Ms. Therese D'avila Signé.
Seven Advanced Academy is a first-class IT training institute poised to providing young Cameroonians in-demand IT skills that will enable them to leverage all opportunities in the job and entrepreneurial markets.
For more inquiries contact:
Seven Academy
Public relations
Tel: +237 652503860
You can help support our work through the link below