By David Atangana
Equato-Guinean authorities have embarked on mass deportation of Camerooonians living in that country.
The move comes barely a day after Cameroon's ambassador to Equatorial Guinea, Desire Jean Claude Owono Mengue, assured Cameroonians of regularising their resident situation.
On Monday October 17, 2022, Owona Mengue said: "The ambassador of the republic of Cameroon to Equatorial Guinea invites all Cameroonian nationals who have registered at his office to voluntarily return and wish to remain on the Equatoguinean territory to come and deposit at the embassy photocopies of their passports, and/or their old resident cards no later than Wednesday, 19 October 2022."
According to Ambassador Owono Mengue: "These documents will be transmitted to the Equatoguinean Ministry of Foreign Affairs and Cooperation, which urgently requests them for the regularisation of their situation."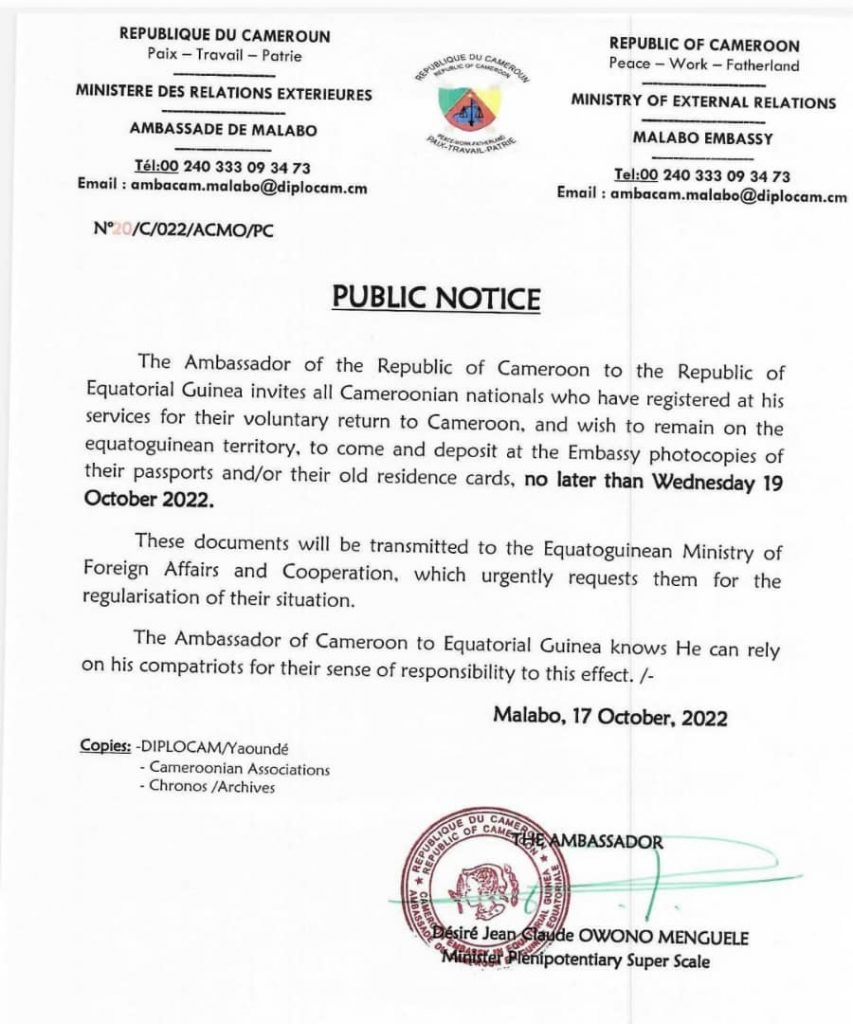 On Thursday October 20, 2022 MMI gathered that several Cameroonians were being arrested.
While some are reportedly locked up, others are deported immediately.
"For now they are not even asking for any resident card, you most go back to your country," a victim told MMI.
Detention centers are reportedly saturated and anyone who is caught by the police is shown the border.
A viral video obtained by MMI shows some Cameroonians being dragged into a police van.
"Our brothers and sisters are suffering from police repatriation in Guinea Equatorial again," the victim added.
"Police stations are all filled up," another victim confided in MMI.
Mimi Mefo Info
You can help support our work through the link below