Samuel Eto'o may soon lose his position as head of Cameroon's Football Federation, FECAFOOT.
This comes after a recent court verdict in Spain, found him guilty of tax evasion and handing him a suspended jail term.
Following the verdict, a Swiss firm has told the Court of Arbitration for Sports, CAS, that Eto'o is no longer eligible to be FECAFOOT President.
In a letter to CAS on June 21, 2022, the firm, Morgan Sport's Law cited article 36 of FECAFOOT statutes noting that no executive members should have had a prison sentence of over three months.
It further invoked article 47 of the same statute which demands that the position of president of FECAFOOT be declared vacant "in case of death, dismissal or exclusion or if the president becomes incompatible or ineligible in the course of his mandate…"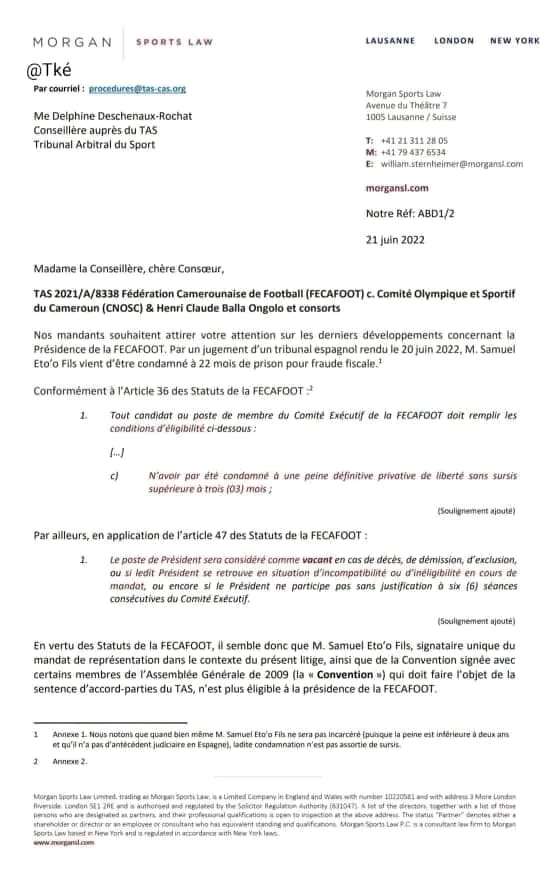 "By virtue of the statutes of FECAFOOT, it seems therefore that Samuel Eto'o … is no longer eligible to be president of FECAFOOT."
Eto'o it should be recalled, had a very rocky oath to the FECAFOOT top job. After eventually beating 'old broom', Mbombo Njoya in a shocker election, he has had to face the much feared 2009 FECAFOOT convention.
It remains uncertain the decision the Court of Arbitration for Sports will take next, as well as Eto's response.
Mimi Mefo Info
You can help support our work through the link below