The family of Marcus Ebilitu Atube has been destabilised since he was "kidnapped" by unidentified military men at Check Point Molyko Buea in November 2018.
According to Abedine Akweton Ebilitu, daughter of Marcus Ebilitu Atube, " We don't know where my father was taken to by the military since November 2018. I have moved around all police stations and other detention centers in Buea, Douala and Yaounde even to see him to no avail".
In a desperate move to know where Marcus Ebilitu Atube is detained and ensure his release, the daughter says "…a man called Emmanuel Njoke extorted over 400.000f cfa from me and my mother." She explains how the man presented himself as a brother- in- law to the commander of Rapid Intervention Battalion (BIR) in the South West.
He claimed to know where Marcus is detained but after receiving the money he has disappeared.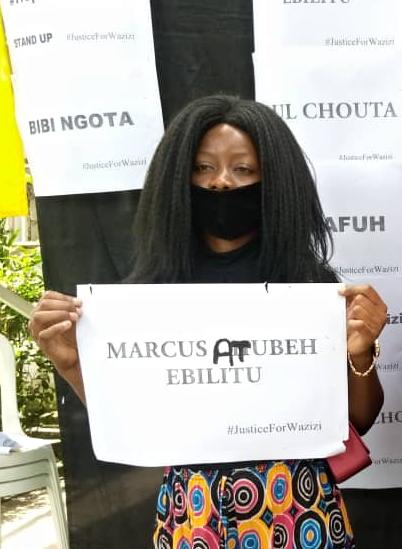 Emmanuel Njoke to Abedine has equally made sexual avances on her as a condition to get Marcus released.
"In the process of searching for my father, i have received threats. Someone told me that i should be very careful in the process. There was a time i was warned not to sleep in my room in Buea. That night i slept outside "Abedine adds in total discomfort and disappointment.
In an exclusive interview with Mimi Mefo Info Friday June 12th 2020, Abedine explains how the the kidnapping of his father by the military since 2018 has caused "unmeasurable harm" to her family.
"First, I was to graduate with a first degree in the department of history at the University of Buea. When the military took away my father, I had to abandon studies because there was no money to continue, the same situation to my two kid brothers. Unable to meet up with financial expenditure in Buea after the taking away of my father, my mother had resettle in the village".
Edith Kah Wallah, leader of a civil society group in Cameroon called "Stand Up for Cameroon" has condemned the act of kidnappings and detention without justice. To her, a non violent protest is the best way to kick out the regime that is specialised in inflicting pains on people they are called upon to govern.
Mimi Mefo Info.
You can help support our work through the link below