A pastor by the name of Tafobang Noel Nuyebga, presenting as the Founder and General Overseer of Christ Restoration Ministries, a church based in Yaoundé, Cameroon, and a church member, Winifred Meye Nji have been accused of scamming over 26 million Francs CFA from a US-based Cameroonian.

The benefactor of the Church project and eventual victim of the elaborate scam, Bih Bikelle Tambi, a US-based, medical doctor specialised in the field is psychiatry decided to undertake this project partly out of charity and the desire to help, and partly because she felt the need to do something for God:

"I had always wanted to build a house for God and an opportunity came up in July 2019. Winnifred notified me of this pastor who moved from Bamenda with his family due to the Anglophone conflict. He was having a hard time securing a church to serve as a pastor. I decided to take that opportunity to build a church if we found a reasonably priced land," Bih told MMI.

Bih was found to have been sending money to the duo for the purchase of land, construction and equipment of a church building for worship.

"In July 2019 she told me that she found a reasonably priced land in the Ngok area. I sent the money through Camilla Ngwe who paid money cash to Winifred for the project. The money paid by Camilla to Winny was sent on different dates (with traceable records)," she explained.

According to the narration, Camilla was trusted with directly receiving funds from Bih before channelling to Winifred and Pastor Tafobang.
Camilla told MMI that she was acting as instructed and had no idea of what the money was meant for:

"I was a middleman between two of them, but I had no idea about what the money was meant for" Camilla told MMI adding that, "All I know is that my friend (Bih) would say 'please give money to this person' and I will go and give."

Founded on trust
According to Bih, the reason she got scammed out of such a large amount of money was because she knew the perpetrators and trusted them.
One was a friend and the other was a pastor, who is supposed to live according to the dictates of the Bible.
It was therefore, out of the trust she had for the pastor, that Bih further authorised that he be given legal rights over the property that she was paying for:

"I was not in Cameroon for the land purchase transaction. I authorized Pastor Noel to sign the original land title in the name of the church temporarily," she further explained.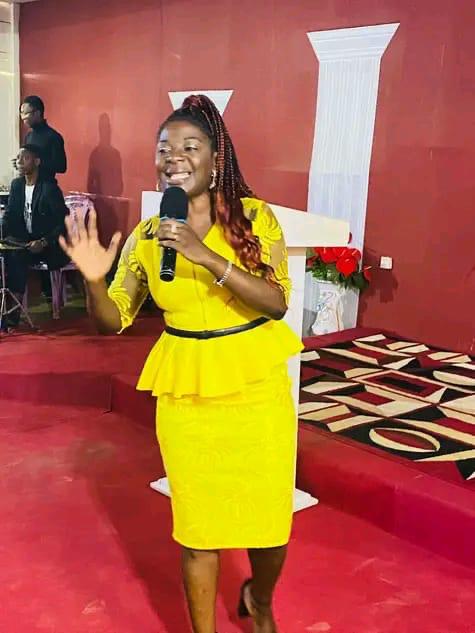 Funds diverted for private use
Pastor Tafobang and Winifred, according to litigation documents that MMI was privy to, collected money amounting to a little over 26 million which was largely diverted for personal use rather than for their intended purpose.
Camilla was unable however, to confirm the exact total amount disbursed to Winifred and Pastor Tafobang:

"Money came in but right now I cannot recall exactly how much. I had put together everything and taken to the police as requested. I lost my phone and no longer have all that information," she explained when quizzed.

Many witnesses, no whistle-blower

Bih further told MMI that the nature of the project was such that many persons were aware of what was happening and can testify to this:
"Witnesses to the said fact that I bought the land singlehandedly and built this church are: Winifred Meye Nji, Tafobang Noel, Jael (Noels former wife), Emmanuel Ndzi (Winny's ex-husband – they were married at the time), Mary (Winnifred's sister who lived with her at that time), and the builder, Mason," she enumerated.

The story was also corroborated by Jael, who was married Pastor Tafobang at the time of the transactions, though she could not provide concrete facts.
Contacted by MMI, Jael said she regularly heard her ex-husband and Winifred talking about a lady in the US as the sponsor of the project but never knew her personally until the case came up.

Confirming that her ex-husband is very much aware of the case, Jael said she does not know a lot about the transactions since she was side-lined and kept away from the project for reasons she never knew.

Despite all the above persons knowing about the project and the amount of money that Bih was sending across, MMI was unable to confirm that any of them raised an alarm or alerted the benefactor, when the money was not being used for its intended purpose.
Breakdown of trust breed suspicion

According to MMI findings, a land was purchased, and a cloak boat structure (carabot), erected with few equipment and chairs bought.
These according to MMI findings, were nowhere near the intended project, nor could they justify the amounts sent by the benefactor. This is corroborated by Jael who confirms that there was a building plan for a modern church complete with a hall and offices, which she saw with her ex-husband.

"There was a plan that was drawn. It was like they wanted a place where people could start fellowshipping before they raise the main structure. I saw the plan. He showed me the plan," Jael explains to MMI before adding that "They had drawn a plan of how the structure was going to look like. They started with a 'carabot' so that they could fellowship there and as time goes, they could start raising the structure. That is what he told me
."

Dr. Tambi was also aware of the arrangements to have a provisional structure in place to be used for worship while the main project was being carried out:

"A temporal wooden structure was erected so that the church can start functioning which I paid for all building material and labour. The plan was to break the temporal building and erect a durable structure in the future," Dr. Tambi confirmed.

According to Dr. Tambi, she started getting suspicious when she demanded accountability for monies sent but got none. In a bid to limit the damage and loss, Dr. Tambi explains that she decided that the land be used for a new project after finding out with the assistance of police authorities, that the duo was acquiring personal properties elsewhere with the money meant for the church project.

Lawsuit as a last resort
Their refusal to hand over all church properties as demanded by Dr. Tambi, led her to involve the authorities as this led her to believe that fraud was involved in the transactions.

Pastor Winifred, being a long-term friend of Dr. Tambi and the main recipient of all the funds sent is currently the main defendant in the lawsuit filed by Dr. Tambi.

She was arrested and detained at Post Central de Police in Yaoundé in December 2021 and was released on bail the same day.

In April 2022, she was again arrested and detained at gendarmerie headquarters (SED), for three days and released after appearing before the State Counsel.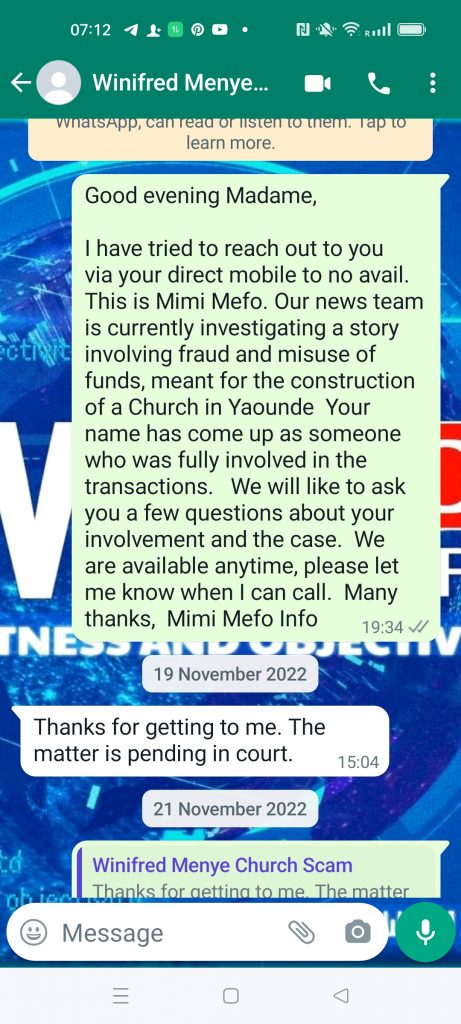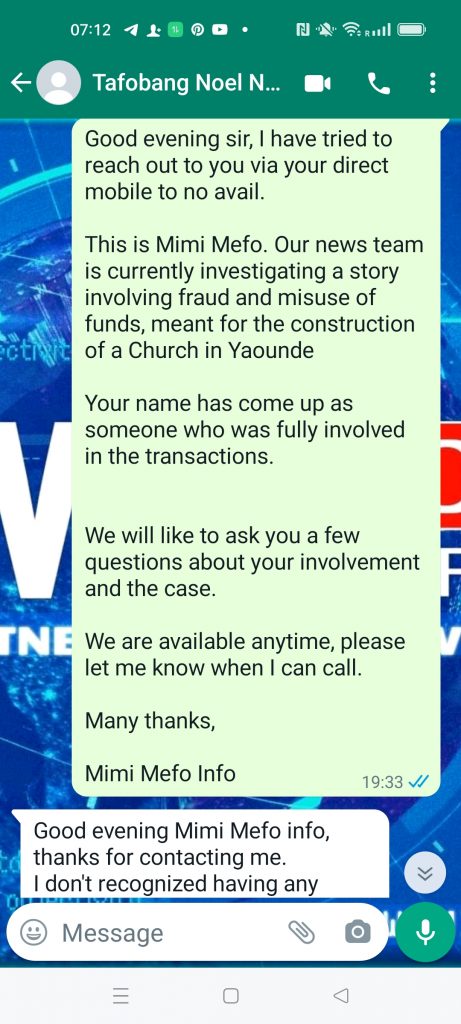 The legal process is on-going as Dr. Tambi is seeking restitution of all the money and church properties, she had invested in.

Denial of Allegations
When contacted for comment, Pastor Tafobang initially claimed that he had no knowledge of anything to do with a church building funds or their misuse:
"I don't recognize having any affair with fraud or misuse of church building funds" he told MMI.
However, this statement is contradicted by a further comment indicating that he was aware of the ongoing litigation and his refusal to comment was based on the fact that he was not the person named on the case
"I can't be commenting on a case already at court in which I am not the accused," Pastor Tafobang told MMI.
Pastor Winifred made a similar comment when MMI reached out to her, arguing that she could not expatiate on the allegations as the case was still in court:
"Thanks for getting to me. The matter is pending in court" was all Pastor Winifred had to say when presented with the mountain of indictments.
This is an ongoing story.
By Mimi Mefo Takambou and David Atangana
You can help support our work through the link below