Anang Success, a form two student in Limbe, South West Region of Cameroon is overwhelmed to resume school after some years of interruption due to the Anglophone crisis.

Given the ravaging effects of the crisis, guardians of the little girl lost their source of livelihood.

"I am happy to be back to school in Limbe and all these is thanks to George and Agbor Foundation. I will forever be indebted to the foundation that is educating me," she stated.


George and Agbor Foundation, established in 2014, is not only educating Anang Success but several other pupils and students from nursery one to upper sixth in Limbe and Douala.

According to Agbor Idriss Tabe, co-founder of the Foundation, "We started this foundation out of love to see desperate children attain formal education and live a normal life just as other children. As innocent as they are, the crisis brought untold misery in their lives and we cannot be indifferent to their plight. The foundation is providing all for these kids to be educated. With the little means we have, we put in place this orphanage that houses, feeds, educates and does everything for the kids out of love".

The foundation runs on the slogan, "Open hearts, open love and open arms".

Evangelist Delphine Amumbi, head of the orphanage in Limbe says it's challenging through an exciting process of taking care of the kids.

"I and the other workers here get up each at 5:00am to prepare breakfast and bath the younger children for school. After their breakfast, we pray with them before sending them to their respective schools. When they are in school, we start preparing launch. Once they close from school, they eat, rest and start reading," he said.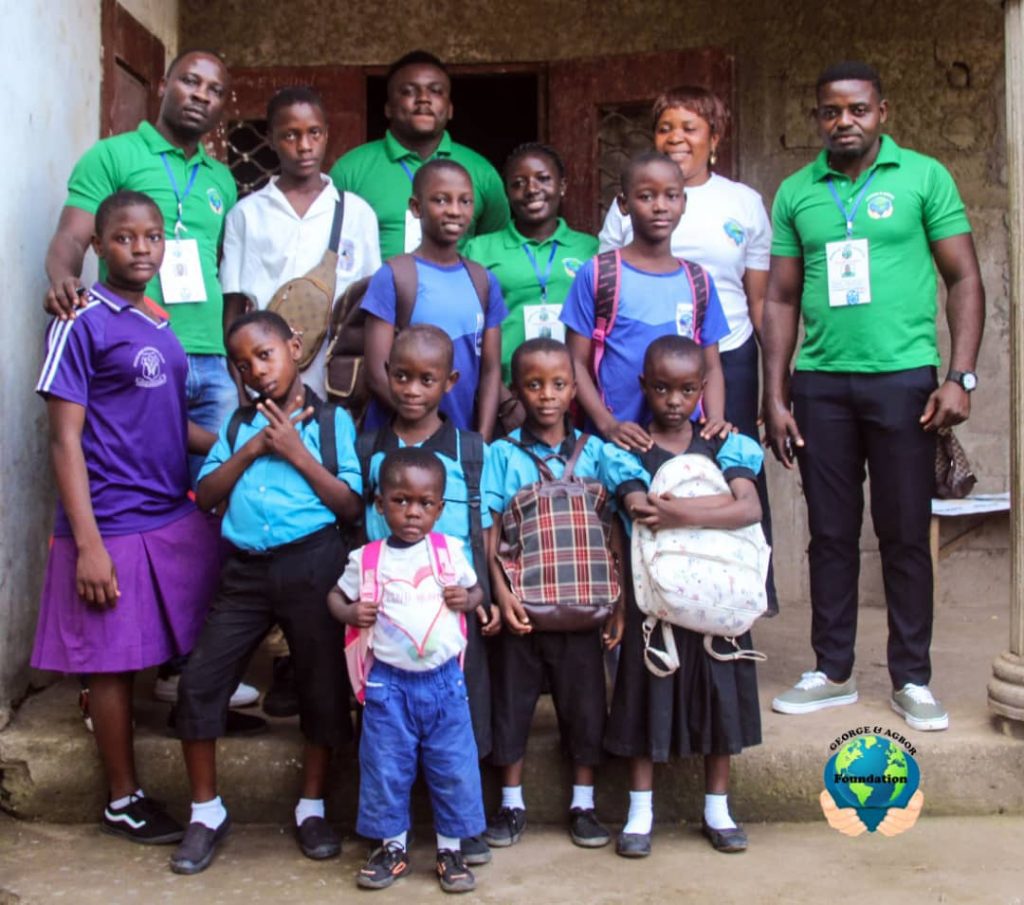 To the evangelist, their determination to see the children grow as responsible people in society is their driving force.

To Ekane Rena, a primary two pupil in the orphanage, "We live well here. We eat, sleep and go to school. I thank Mama Delphine and George and Agbor Foundation for taking care of us."

On how children are selected to be taken care of by the Foundation, the co-founder says they receive children from all backgrounds.

"We just have to establish concretely that a child is desperate and expresses the desire to continue his or her education. This explains why we are calling on people of good will to join us put smiles on the faces of these children devastated by the conflict," the foundation's cofounder says.

Besides taking care of vulnerable children in Cameroon, the foundation has been offering material and financial assistance to people affected by the Anglophone crisis in the South West and other parts of the country.

"We have visited a woman that was attacked and her hand chopped off. We offered her the little we could to make life comfortable for her and her family," the cofounder stated.

The activities of George and Agbor Foundation have gone beyond national boundaries.

To Agbor Idriss Bate, "last year, the foundation offered humanitarian assistance to people in Pakistan. The needy people found out how we have been assisting people through our social media publications. They contacted us and after examining their situation, we discovered that they were really in need so we offered them material and financial assistance."


The foundation looks forward to touch many more lives in and out of Cameroon with the collaboration of everyone.

Chu Ndze Franklin, one of the members of the Foundation says "Membership is open to everyone with a good heart willing to volunteer his time and resources to assist children that need help. A potential member just needs to come with photocopies of his or her national identity card and other legal documents. There is no tribal or religious barrier and no fee is paid to be a member of the foundation. We look forward to many people joining us to permit the foundation reach out to thousand and millions of children out there."
You can get in touch with George and Agbor Foundation through the following contacts:

Calls: +237 698 057 044

WhatsApp: +491 630 374 501

Facebook: GEORGE AND AGBOR FOUNDATION

Email:info@georgeandagborfoundation.org

Website: www.georgeandagborfoundation.org
You can help support our work through the link below