Government has announced emergency measures to assist patients and those in need of health care in Mamfe — following the torching of the district hospital on June 8, 2022.

The decision emerged from a crisis meeting between the Ministry of Public Health, the World Healthy Organization and the Centre for Disease Control and Prevention.


Minister Dr. Manaouda Malachie in a press release, said: "the establishment without delay of a field hospital, the delivery and deployment of medical equipment to this health district, the psychological care of health personnel, victims as well as members of their families."


While denouncing the arson perpetrated by suspected separatist fighters, the Minister was categorical that: "no claim can justify such ignominy."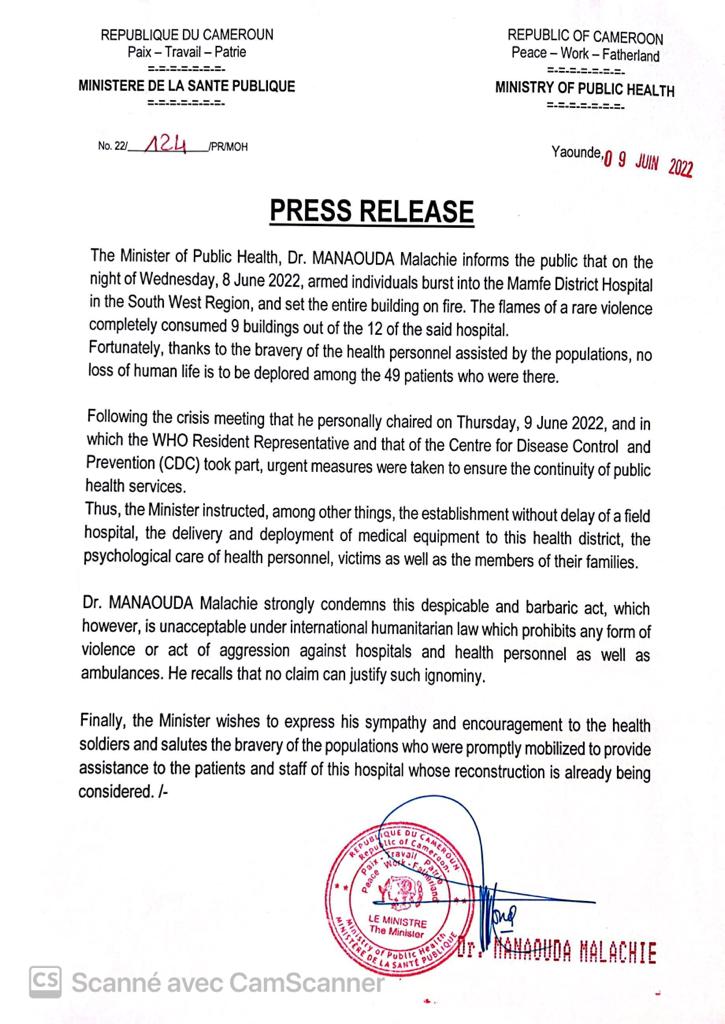 He further expressed his sympathy and encouragement to the facility's personnel, and saluted the bravery of all those who managed to salvage the situation.


International medical body, Doctors Without Borders in similar fashion has condemned the incident. In a June 9 release, the medical body said the incident was only making it harder for the people of the South West region who have gone for two months without her services now.

————————————-
The Mimi Mefo Info Team, (MMI) appreciates all your constant support.

We are driven by the fact that you remain our only source of inspiration, as we continue to gather, write and publish stories without fear or favour.

These are, however, very trying times for several journalists, especially for MMI whose reporters have to brave all the odds to work remotely for fear of reprisal attacks.

That's why we continue to ask for your constant support.


How to support us!

*Please share our website link with friends and loved ones daily


*You can also support our dynamic team working day in and day out to keep you up to date, with any amount.

Use the following payment methods:

PayPal: contact@mimimefoinfos.com

Mobile money: +237679135573

Bank Transfer: Account name: MIMI MEFO INFO LTD
IBAN: GB49TCCL04140456360181
SWIFT/BIC: TCCLGB3L
Intermediary bank SWIFT: BARCGB22 (only use if required by sender bank)*
You can help support our work through the link below