Communication Minister Rene Emmanuel Sadi has responded to insinuations that the government is hoarding information on investigations into the murder of journalist Martinez Zogo, stating that such investigation proceedings are supposed to remain secretive as per the Criminal Procedure Code, CPC.
In a release issued on March 1, Minister Sadi said only public prosecutors have the duty to publish reports on an ongoing investigation like the case of Martinez Zogo.
The Minister stated that people who are pressing for more regular Government communication on the progress of investigations on the Martinez Zogo case are insinuating that there there is a deliberate desire to withhold information.
"In this regard, it should be noted that any communication occurring in a case, while a judicial police investigation is in progress, is governed by the relevant provisions of the Code of Criminal Procedure, which provides in its article 102, paragraph 1, that the procedure during the judicial police investigation is secret. However, the secrecy of the investigation is not opposable to the Public Prosecutor," the Minister said.
"In addition, paragraph 3 of the same article, reserves to Judicial Police Officers alone, the possibility of publishing, after visa of the Public Prosecutor, press releases and documents relating to certain cases of which they are seized," he added.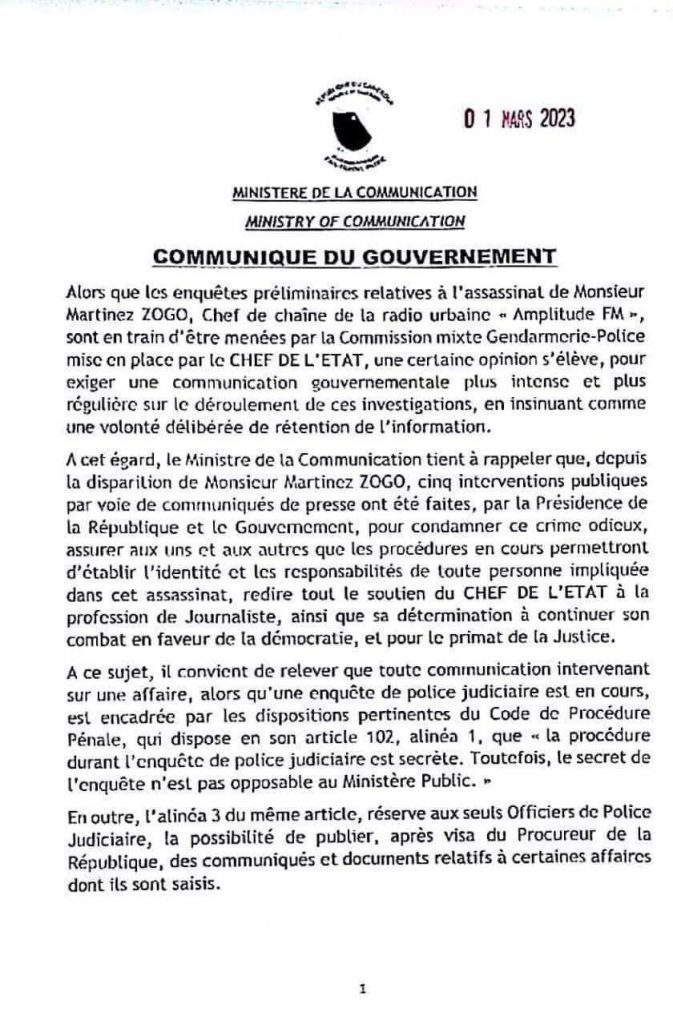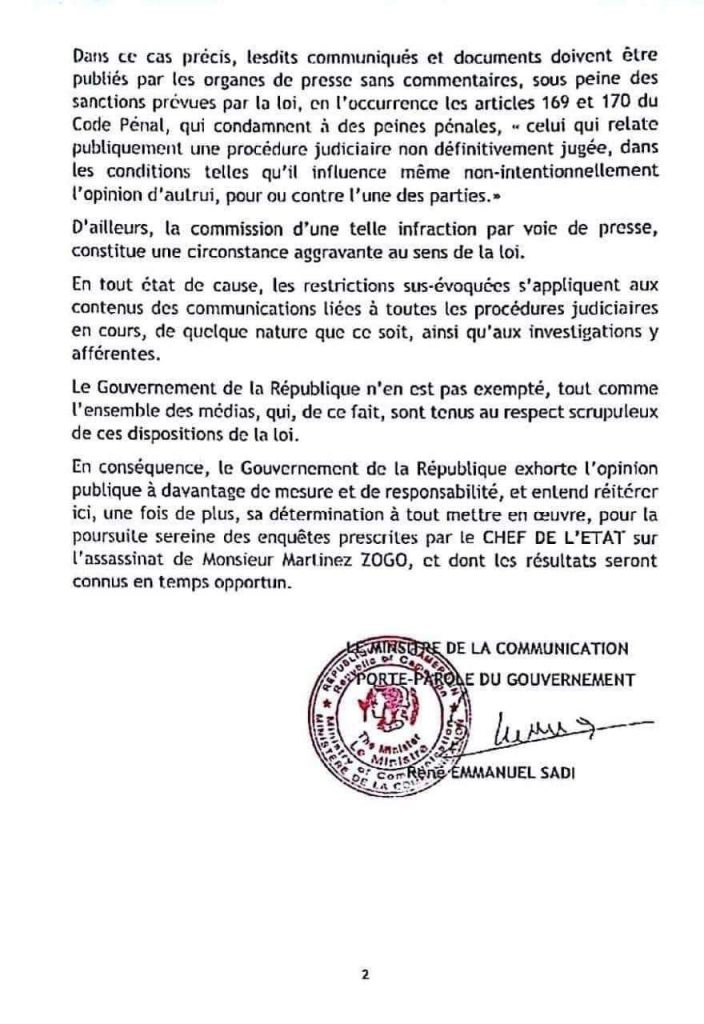 Today's release comes five days after the Communication Minister published another release affirming that justice will be done on the Martinez Zogo, former managing director of Amplitude FM, who was abducted and gruesomely murdered in January.
The Cameroon Government has been under local and international pressure to arrest and prosecute those responsible for his killing.
According to Minister Emmanuel Sadi, the government is doing everything in its power to pursue justice in the case.
"Consequently, the Government of the Republic urges public opinion to show more moderation and responsibility, and intends to reiterate here, once again, its determination to do everything in its power, for the serene pursuit of the investigations prescribed by the Head of State on the assassination of Mr. Martinez Zogo, the results of which will be known in due course."
Cameroonians have been very curious about the results since the government announced, earlier in February, that several suspects had been arrested with regard to the case.
They want to see those who share the blame for the journalist's killing prosecuted and duly punished.
By Tata Mbunwe
You can help support our work through the link below