The governor of the West region has prohibited heavy Vehicles from using the the Bamougoum-Dschang-Santchou-Melong road as increasing downpours worsen the road's condition.
Governor Augustine Awah Fonka also cautioned people using the stretch of road, asking them to remain cautious.
The administrative decision was prompted by the heavy downpours last week which caused River Elienti to overflow its bounds, eroding a section of the road.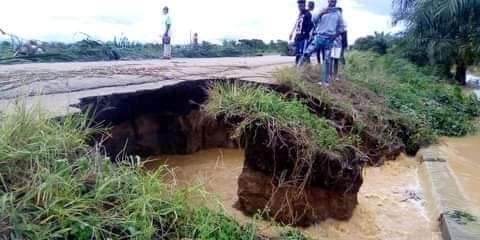 Navigation around this road section remains critical. Administrative authorities have warned that people residing along the Elienti river bank should relocate to safer areas as there are fears the river may do it's worst.
According to an online weather forcaster, accuweather.com, the West regional capital Bafoussam will witness less rainfall this week and temperatures are expected to rise up to 24 degrees celcus on Wednesday, with no rain on Monday and Tuesday.
Mimi Mefo Info
You can help support our work through the link below