Twenty six years old Venessa Tchatchou is today considered in Cameroon as the symbol of the pains of child birth and the general suffering of a Cameroonian girl and woman under the regime of President Paul Biya.
Vanessa Tchatchou has not lost hope and determination nine years after her baby girl was stolen few days after birth at the gynaco-obstetric and pediatric hospital in Yaounde.
In an exclusive interview with Mimi Mefo Info in Douala today Wednesday February 26th 2020, Vanessa says " I still feel the pains of the disappearance of my baby as if it happened today".
"A female magistrate in Cameroon is keeping my baby. I know that. It can go on for a long time but I am confident that one day I will meet and take my baby" she said.
Vanessa regrets about the judicial system in Cameroon that has not been able to render her justice close to a decade after her fruit of the womb was stolen by a "personality in Cameroon".
On what Vanessa has been doing since the incident that shocked the world and sent many activists and lovers of justice marching in different parts of the world demanding the return of her baby, the lady managing to put on a smile says "I am a final year student in the department of law at the university of Dschang in the West region".
"I have been silent all these while because my baby was stolen when I was just 17 years (a teenager). I am getting matured and educated too" she adds.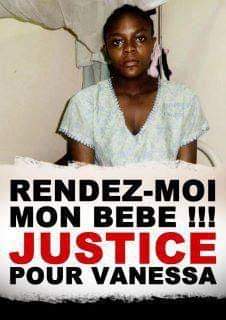 Questioned if her choice of study in the university has any direct bearings with the tragic incident of stealing her baby while she was 17 years, she affirms " I have always nursed plans to work and safe the lives of people. But after the incident at the gynaeco-obstetric and pediatric hospital in Yaounde, I decided to study law to ensure that when practicing justice will be rendered to the people of Cameroon.
My knowledge in law will help me fight for my baby and other Cameroonians."Vanessa Tchatchou's baby was stolen on the 20th of August 2011.
She vehemently refused to leave the hospital despite pressure to get her to forget about the baby.Her bravery in the face of the adversity gave courage to other Cameroonian women that have hitherto been weeping in silence to speak and complain about frequent theft of babies in government hospitals in Cameroon without concrete investigation carried out by authorities.
Present at the unannounced political rally of the Cameroon Renaissance Movement party in Douala, Vanessa points clearly however that she is not a militant of the CRM party. "My presence here is just because many of those who stood and are still standing by me since my baby was stolen in 2011 are militants of the CRM. So I can say I am a sympathizer not yet a militant."
Mimi Mefo Info.
You can help support our work through the link below