The Head of the University of Buea's Journalism Department, Professor Kingsley Ngange is again in the news.

This time, he and colleague instructor of his, Dr Moki Mokai Stephen are accused of authoring a defamatory piece, accusing persons of fanning the flames of the armed conflict in the Anglophone regions.


In a June 4, 2022 public statement, Nfor Hanson of the Cameroon News Agency, and former Editor at Equinoxe TV cited a 2019 work by both lecturers in which he and others were cited.

The work was contained in a piece titled Understanding Social Media's Role in Propagating Falsehood in Conflict Situation: Case of the Cameroon Anglophone Crisis.


"I was appalled by the unfounded accusations in the article tagging me a spokesperson for those fighting for independence of the Anglophone regions…" Nfor stated.

In a portion from the publication he shared, he was cited alongside journalist, Mimi Mefo and many others for supposedly fronting the separatist agenda, and controlling armed factions in the ground.


The document, Nfor explained, was void of any proof of the said accusations, with "… no hard evidence (s) produced, not even a letter appointing me as a Spokesperson for the struggle of independence."


"It is sad that these two are the ones teaching journalism students in the University of Buea but cannot keep aside quarter talks to produce a well-written peer reviewed article," he lamented.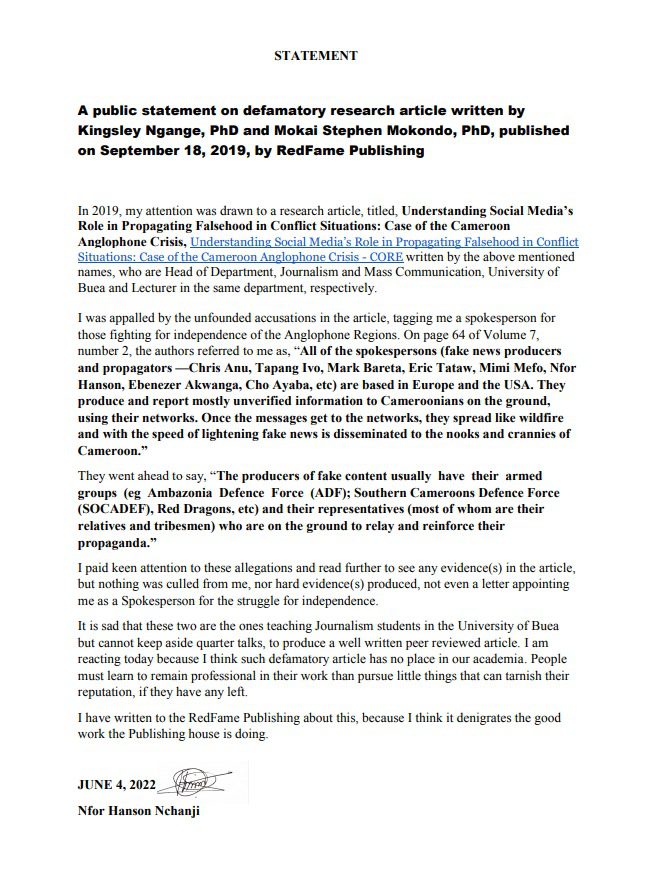 The reporter in his public statement went on to address the reason for his silence all this while, given that the said paper was produced in 2019, three years back. A defamatory article as such, he stated categorically, does not belong to the academia.

To this end, he revealed, he had written to RedFame Publishing where the work was published. His letter, CNA journalist said, informs RedFame that the publication denigrates the good work the publishing house is doing.


"People," he urged, "must learn to remain professional in their work than pursue little things that can tarnish their reputation if they have any left."


This is not the first time Dr Ngange is getting into hot water over conduct and similar accusations. He has often been called out by many including former students for malpractices and insane moral conduct, questioning his integrity.
————————————-
The Mimi Mefo Info Team, (MMI) appreciates all your constant support.

We are driven by the fact that you remain our only source of inspiration, as we continue to gather, write and publish stories without fear or favour.


These are, however, very trying times for several journalists, especially for MMI whose reporters have to brave all the odds to work remotely for fear of reprisal attacks.

That's why we continue to ask for your constant support.


How to support us!

*Please share our website link with friends and loved ones daily


*You can also support our dynamic team working day in and day out to keep you up to date, with any amount.

Use the following payment methods:

PayPal: contact@mimimefoinfos.com

Mobile money: +237679135573

Bank Transfer: Account name: MIMI MEFO INFO LTD
IBAN: GB49TCCL04140456360181
SWIFT/BIC: TCCLGB3L
Intermediary bank SWIFT: BARCGB22 (only use if required by sender bank)*
You can help support our work through the link below