The case of Vision 4 journalist Ernest Obama, who was yesterday arrested and detained at SED (Secrétariat d'État à la Défense), has brought forth mixed reactions from his colleagues and civil society activists.
While the arrest and incarceration of journalists like Paul Chouta, Kingsley Njoka and others led to a barrage of criticisms and calls for their release by journalists and other well wishers, the reactions after the arrest of the former Vision 4 director have rather brought about lukewarm reactions from his own colleagues especially at Vision 4.
A report by his colleague – Salamatou Bidiang of his former media house Vision 4, examined the real reasons behind the arrest. Reactions have been pouring in from various Francophone journalists criticizing the mocking style of the report.
Boris Bertolt insists he has every right to rejoice at the arrest of Ernest Obama, but adds there is no need indulging it. Bertolt insinuates he was blatantly insulted live on air by Obama for several hours and he could well use this to get his own pound of flesh.

"Personally Ernest Obama publicly insulted me on Vision 4 for hours. He even announced my arrest order. He called for the killing of English speakers; he supported the detention and the execution of Maurice Kamto. He is one of the architects of tribal extremism. He supported the detention of several journalists in Cameroon whose freedoms I have always defended" he wrote. Bertolt however still thinks that Ernest Obama's rights should not have been compromised during his arrest, and wishes Obama was treated fairly.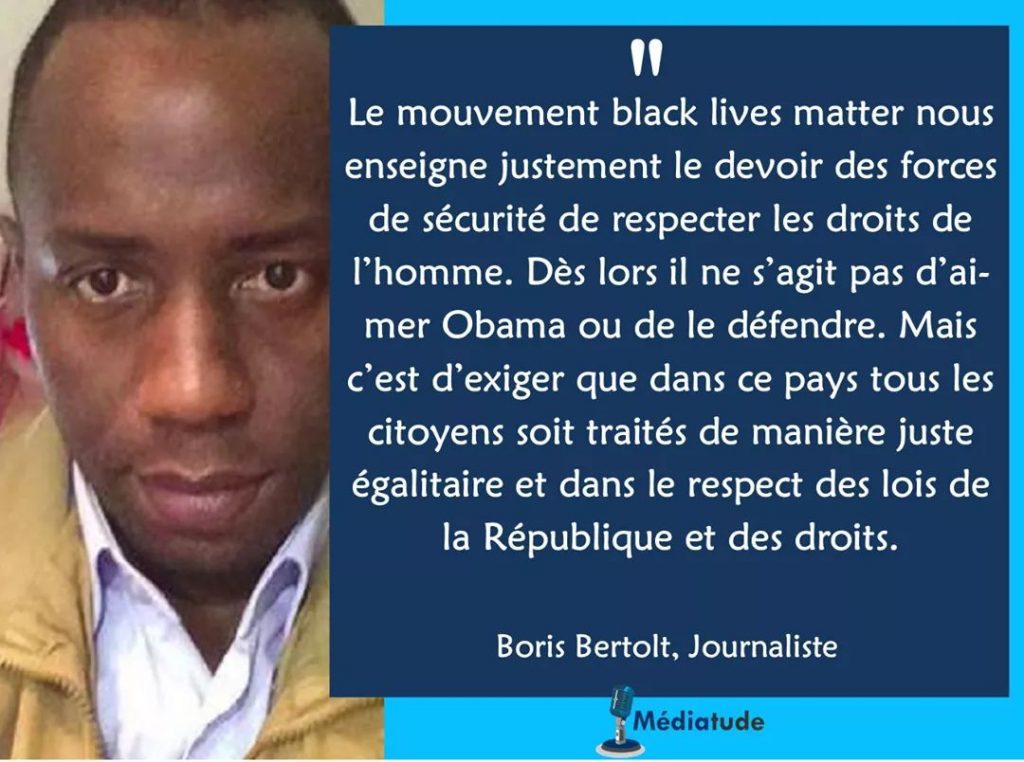 Clarence Yongo criticised Bidiang's report on the arrest of the journalist, referring to the report as being grossly unethical at the end. He believes journalists should be more responsible in reporting issues of a delicate nature like this one.
Aristide Bounah, a developer at Afrik-Inform believes persons rejoicing over the arrest of Ernest Obama are part of a plot to stifle the press in Cameroon. He mentioned that "Challenging Obama today is a great injustice and a flagrant display of undue justice to politics. His case shows the great plots behind most inmates namely Chouta, Baongla and many others. It is not good. We need to release them all; Chouta, Obama, Boangla and others in the same situation".
Journalist Jean Bruno Tagne was much more concerned with the manner in which the former director for Vision 4 television was arrested. He condemned the attempt by forces of law to humiliate the journalist, saying he felt compassion for the arrested journalist. "I don't know what he was accused of, but the setting of his arrest , showed an intention to publicly humiliate him. It is unacceptable in the Republic. When a man faces injustices, we must find the strength to silence our past and present feelings to say no."
Alain Dexter of CRTV (Cameroon Radio Television) ripped into the lukewarm attitude from the immediate colleagues of the arrested journalist. Dexter expressed his dissatisfaction in the lack of support shown by those he thinks Ernest Obama could have depended on.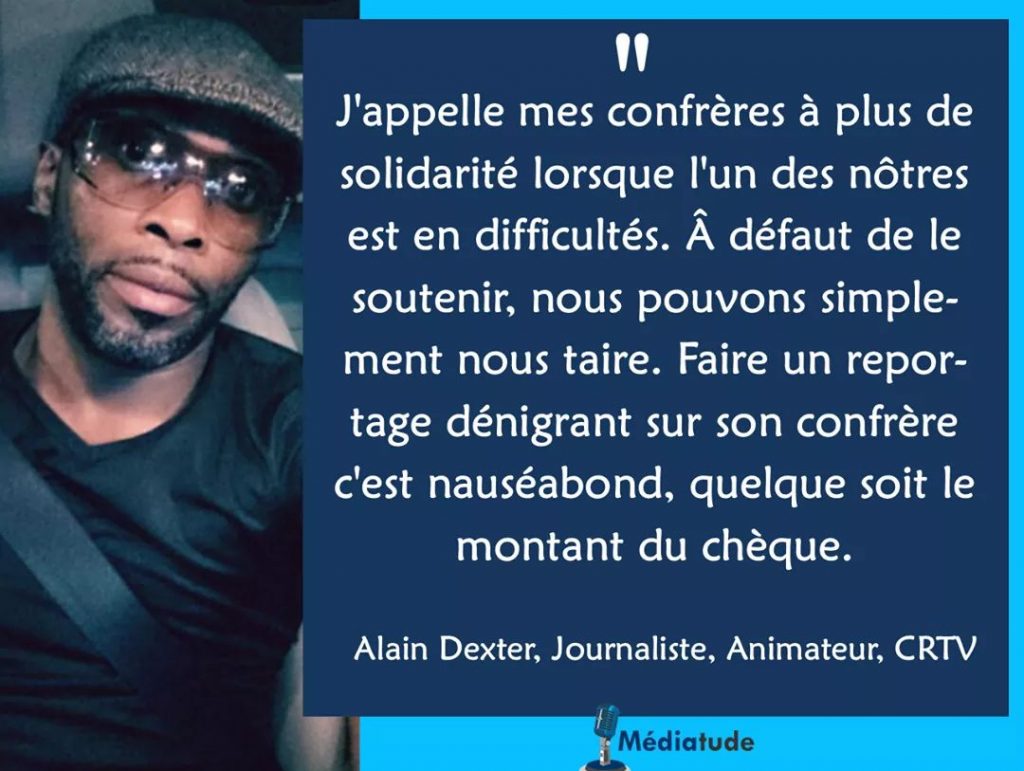 Regarding the report by Salamatou Bidiang, another journalist – Jean Solar Kuete, questioned Bidiang's professionalism after what he considers a rather derogatory report by the journalist. "I wonder how a journalist feels after writing and broadcasting a report aimed at humiliating a fellow colleague. How can we carefully gather words and images for such a degrading mission for the profession we have chosen? Ernest Obama will soon be released from these torments. That is my wish. But this report will remain like a black stain on the coats of arms of our company that has been suffering for a while. Courage to you Ernest!"
Pictures: Mediatude
(C) Mimi Mefo Info
You can help support our work through the link below