Efuet Therese Nkong is responding to medical attention at a Douala hospital after a gunmen attacked the Mother Francisca International Memorial Academy Fiango Kumba on the 24th of October 2020.
According to Evenyi Mariette, mother of the girl, the health condition of Therese is improving.
"We arrived Douala… hospital on Monday the 26th of October. Specialised doctors have been treating Therese. Contrary to information on the social media, she has not had any head operation. The x-ray and brain scan show that she has two bullets in her head but specialists are using drugs to ejects the bullets.They explain that an operation of the brain is not advisable at the moment," she explained.
Twelve-year-old Efuet Therese Nkong, a form one student of Mother Francisca International Memorial Academy arrived Douala with a swollen face and was constantly vomiting. One week after treatment, her mother says "…she sleeps, she can sit and eat on her own despite the pains". "My prayer is for the bullets to come out of her head," she adds.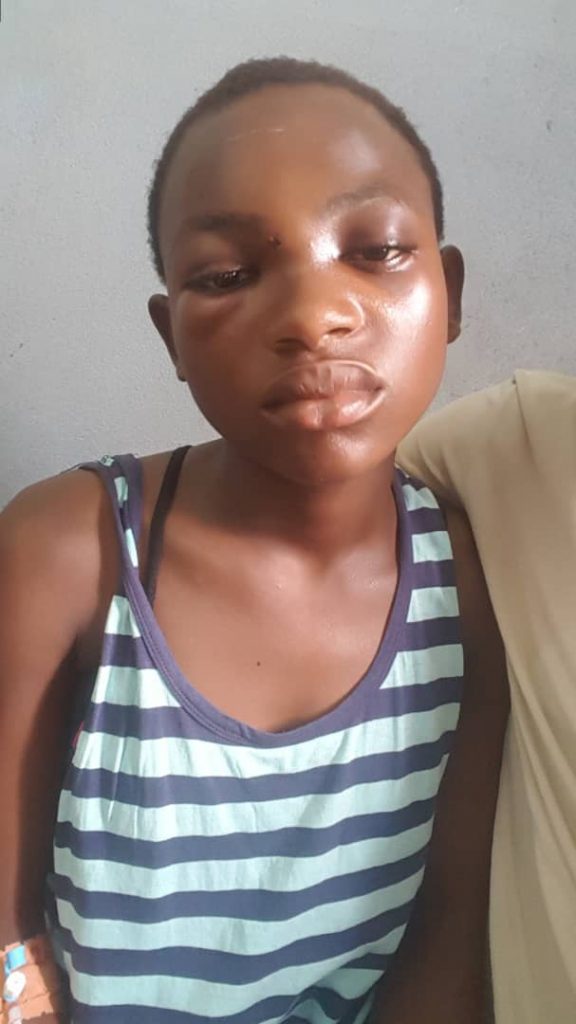 In an exclusive interview with Mimi Mefo Info Monday November 2nd 2020, Evenyi Mariette says government has so far taken responsibility of her daughter's hospital bills.
"The hospital is giving treatment her for free. We have equally been visited by people from the ministry of health and social workers. They come to find out about the health situation of Therese and equally to encourage her psychologically to have hope of survival," Evenyi Mariette noted.
Efuet Therese Nkong was transferred to the hospital in Limbe from Kumba on Sunday October 25th, less than 24 hours after the brutal attack of the private college in Fiango Kumba. While in Limbe, the medical team "assessed the gravity of injuries sustained by the girl and referred her to Douala general hospital for proper medical assistance," Mimi Mefo Info was told.
Therese recalls vividly how the killers attacked her class.
"We just finished lectures and were waiting for another teacher when armed people climbed the stairs and stated shooting at students in my class. They shot me too and I felt on the floor. When they left, I got up and ran towards our house situated just opposite the school," she recounted in tears.
To her mother, bleeding on her fore head at first sight did not indicate any pending danger, as Therese "out of confusion, initially thought she sustained the injury while trying to escape," her mother went on.
"When the bleeding persisted and her body was becoming week,that is when we rushed her to the hospital in Kumba".
As Evenyi Mariette thanks God for the life of her baby, she, however, remains uncertain about the education of the child in Kumba as the Anglophone crisis deepens.
"I don't think she will continue to attend classes in Kumba. The shooting I witnessed is so terrifying and with the picture on my mind, it's very risky sending her back to school in Kumba".
At press time, Territorial Administration Minister, Atanga Nji just left their hospital room as he returned from his second visit to Kumba following the massacre.
Mbatho Ntan.
You can help support our work through the link below