Djeumeni Benilde, a politician of the Social Democratic Front, SDF party is in the spotlight for conduct prior to the municipal elections in February 2020.
This comes after a document was released, reveling he had been paid off to forfeit the election and pull withdraw a list he was heading.
According to the leaked document, Djeumeni Benilde and Nguime Ekollo, another party scribe agreed to step down and let the ruling Cameroon People Democratic Movement, CPDM party take over in Dibombari in the Moungo Division, Littoral region.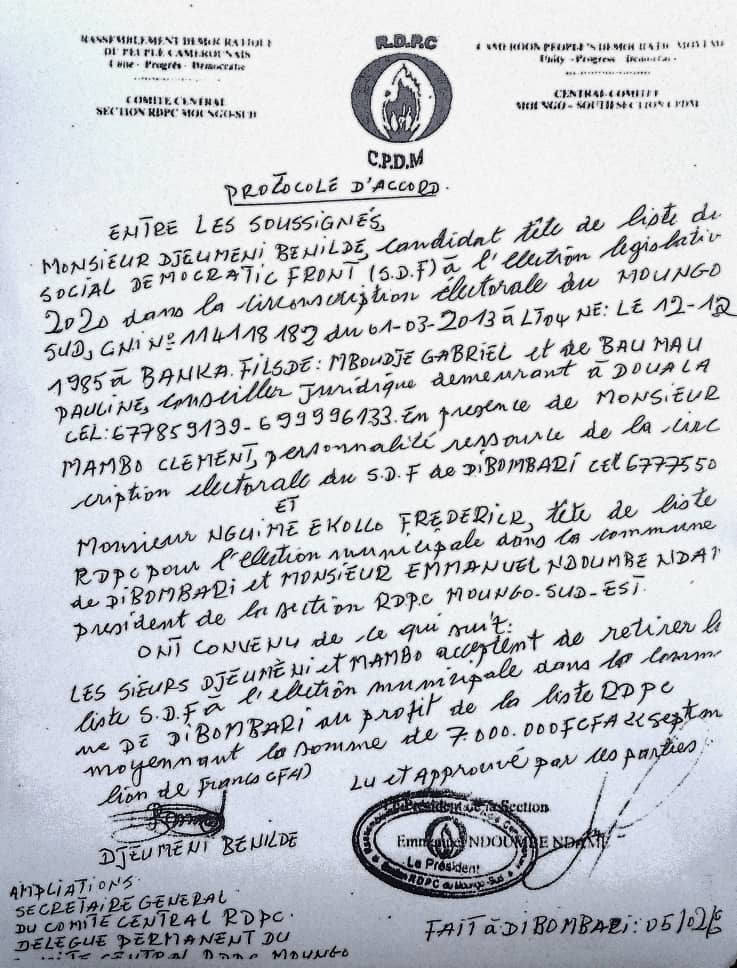 Both men, the document appearing to have beend signed by Djeumeni Benilde, "…agree to withdraw the SDF list at the municipal election in the municipality of Dibombari for the benefit of the CPDM List for the sum of 7,000,000fcfa".
Neither the SDF, the CPDM nor the individuals involved have confirmed or denied the authenticity of the document.
While Djeumeni Benilde is yet to make any comments on the leaked document, the leaked document has once more brought the SDF party under criticism, coming after a tussle between some party bigwigs.
Hon. Joshua Osih and Hon. Nintcheu both of SDF Littoral had exchanges verbal attacks as Nintcheu accused the former of working out of the party policies.
You can help support our work through the link below