The serious-faced Minister of Justice has been in the Biya circle for over 32 years now. Considered by the president as a 'reform minded technocrat' he was given the position of Deputy Secretary General at the Presidency.
Things will move up very fast for the politician as just a year later he will be appointed Director of Civil Cabinet at the Presidency of the Republic in April 1989, a position he held for seven years.
In 1996, he was then made Minister of Justice by President Biya. He held the position it for 4 years, after which he moved to the Ministry of Public Health and a year later, he was appointed Minister Delegate at the Presidency in charge of Defence in 2001.
Not yet done touring the high ministerial positions in Cameroon, Biya then made him Minister of Foreign Affairs in 2004 and in 2006 Minister of State and Secretary General at the Presidency in 2006.
In 2011 however, Laurent Esso was again reappointed to as the Minister of Justice, a position he initially held from 1996 to 2004, a position he still holds till date.
Often considered as Paul Biya's most trusted associate, the straight-faced politician has been immune to all of Biya's numerous ministerial shuffles ever since his name came up in the appointment list in 1988.
Many equally believe he is selfless and his unquestionable loyalty to Mr. Biya could make him the ideal man to take over the sacred seat at Etoudi. That was how Biya too gained power right? Laurent Esso in actual terms has the closest personality to that of the President. In this week's issue, Jeune Afrique Magazine asks if Laurent Esso is the "chosen one". Only time will tell!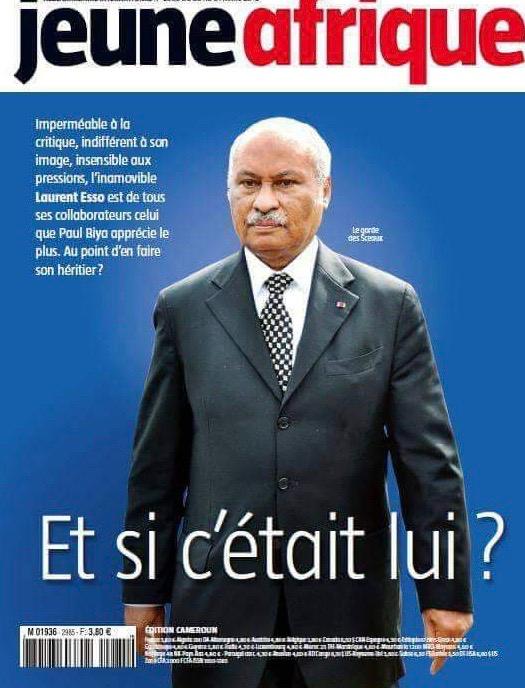 Very calm and unpressurized, he is considered to be the most feared Minister in the Cabinet, even amongst fellow ministers. In the management of State Affairs, he maintains utmost diligence and the wit his master (Biya) would be most proud of.
Like the Head of State, Laurent Esso maintains his speech level to only when 'necessary'. All he needs is a facial resemblance of Mr. Biya and there, you will have his prototype. It is widely said the Minister of Justice never really deals with files under pressure.
He has his personal mantra, "emergencies are handled in the hospital". He is well conscious of the fact that to be victorious in the Cameroonian political landscape, it is most essential to rebuff pressure and act on the president's favour, otherwise, it can wait.

It is thus not very farfetched to consider the silent despot as the heir to Biya's throne, given the fact that the latter is almost certainly physically declining, as the 75-year-old has had a taste of almost all sovereign ministries of the nation. A cold man without unnecessary affection could well and behold be the eternal "Who next?" that Cameroonians have long been asking.
©Mimi Mefo Info
You can help support our work through the link below