Bishop Aloysius Abangalo Fondong of Mamfe Diocese has called on Christians to pray for Rev Fr Dieudonne Akawung Tazisong, a priest of the Diocese who recently gained the Pope's approval to quit priesthood.
In a pastoral letter to Roman Catholic Christians on February 20, the Bishop announced that Rev Fr Akawung has seized being a cleric, urging Christians to pray and that "he remains a faithful and proven son of the Church."
"I exhort you to kindly pray that Mr Dieudonne Akawung Tazisong will continue to take part in the life of the people of God in a manner consonant with his status as a layperson…," the Bishop wrote.
The priest had applied to Pope Francis to get his approval of him giving up his clerical duties, a wish that was granted recently.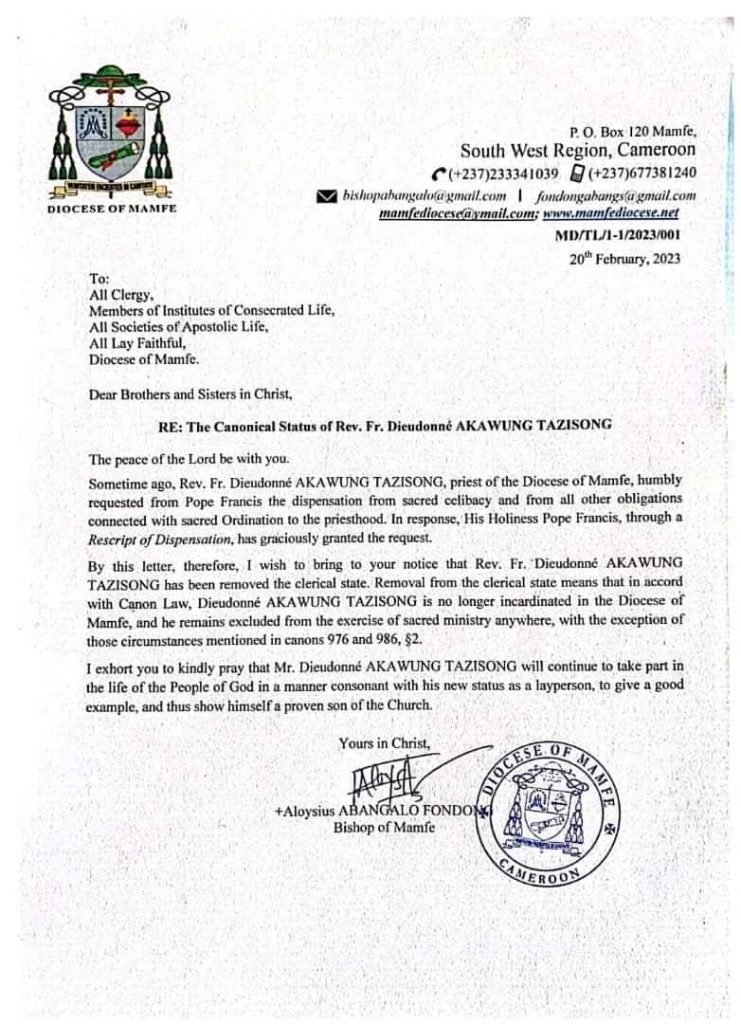 "Sometime ago, Rev Fr Dieudonne Akawung Tazisong, priest of the Diocese of Mamfe, humbly requested from Pope Francis the dispensation from sacred celibacy and from all other obligations concerned with sacred ordination to the priesthood. In response, His Holiness Pope Francis, through a rescript of dispensation, has graciously granted the request," Bishop Abangalo Fondong stated.
"By this letter, therefore, I wish to bring to your notice that Rev Fr Dieudonne Akawung Tazisong has been removed from the clerical state," he added.
The Bishop gave no explanation on why the priest is quitting his position.
Dieudonne Akawung is now the second priest of the Bamenda Ecclesiastical Province of the Catholic Church to renounce his calling within one year.
In February last year, George Galame, a priest of Buea Diocese, quitted priesthood and proposed to his girlfriend during her birthday party in America.
By Tata Mbunwe
You can help support our work through the link below