A man by name Mantouo Tiatsop has been captured for posing as a Field Marshall in Douala, the economic capital of Cameroon.


Mantouo, popularly called "le maréchal papillon" reportedly acted as head of the inspection mission for vehicles in several parts of the city — before he was discovered recently.

"He had used the opportunity to train new gendarmes on how to control vehicles at checkpoints," revealed a source.


His schemes were suddenly unmasked by the chief warrant officer of the Logbessou Territorial Brigade, Anthony Ankiabom, where he has been put behind bars.


Mantouo Tiatsop becomes the third man arrested for impersonation of government forces in less than one week.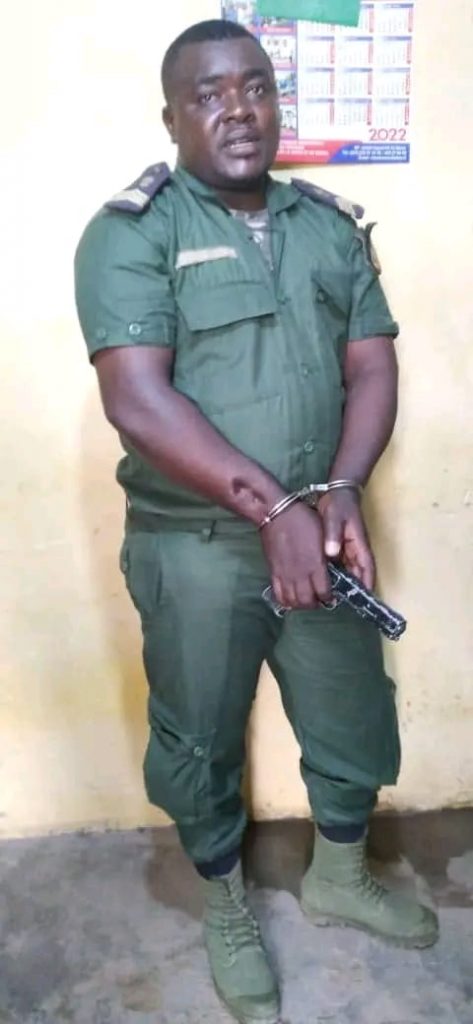 A 47-year-old man and another young man in his twenties were recently arrested and put behind bars for faking their proffesion as military officials.


By Amina Hilda

————————————-
The Mimi Mefo Info Team, (MMI) appreciates all your constant support.

We are driven by the fact that you remain our only source of inspiration, as we continue to gather, write and publish stories without fear or favour.

These are, however, very trying times for several journalists, especially for MMI whose reporters have to brave all the odds to work remotely for fear of reprisal attacks.

That's why we continue to ask for your constant support.

How to support us!

*Please share our website link with friends and loved ones daily


*You can also support our dynamic team working day in and day out to keep you up to date, with any amount.

Use the following payment methods:

PayPal: contact@mimimefoinfos.com

Mobile money: +237679135573

Bank Transfer: Account name: MIMI MEFO INFO LTD
IBAN: GB49TCCL04140456360181
SWIFT/BIC: TCCLGB3L
Intermediary bank SWIFT: BARCGB22 (only use if required by sender bank)*
You can help support our work through the link below