The recent attack by separatist fighters in Njikwa-Mbengwi, in the Northwest region that led to the death of four Military personnel as well as the Divisional Delegate for Communication for Momo Division, Mrs Rebecca Jeme of Bakweri origin, has re-awoken the bitter resentments Bakweri people have aginast North West people.

The antics of Chief Ewome John Eko aka Moja Moja have now been taken over by Prof. Samuel Ewusi Kale, Head of the UN's University for Peace in Addis Ababa, Ethiopia.

Reacting on the recent death of Rebecca Jeme, the Professor made a social media post calling on all Bakweri sons and daughters to leave the Northwest and return to Fako Division.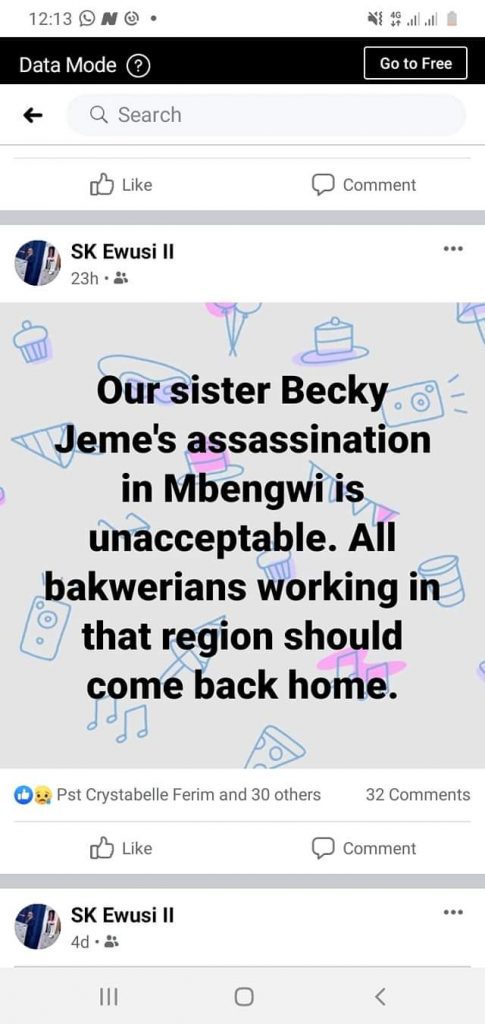 According to the Professor, the case of the Divisional Delegate for Communication of the Momo Division was a clear case of a targetted killing by separatist fighters of the Northwest, the same conspiracy theory that has of recent been proliferated by the infamous Chief Moja Moja.

Much unlike the revered advocate of Peace that he should be, Prof. Samuel Ewusi Kale has chosen a trajectory that will rather plunge the crisis into a second indigenous conflict between the two Anglophone regions.

Saying the Divisional Delegate was particularly targeted for the mere fact that she was from the Fako Division is highly faulty and very propagandist. Rebecca Jeme was only one of about 6 persons who were killed as an explosive device detonated on a military vehicle as they returned from an installation ceremony.

Military forces have been the target of past separatist attacks and assassination in both the Northwest and the Southwest regions.

While a solution is yet to be found for the Anglophone crisis, adding an element of further division is laying groundworks for deadlier clashes, especially when they come from very renowned pedagogics like Prof Samuel Ewusi Kale.

Anglophones have witnessed through Chief Moja Moja, how subordinates could easily pounce on an influential figure's ideas. Given that the government has sometimes shown bad faith in solving the crisis, it may only come back to individuals' consciences to objectify their thoughts and deeds for the betterment of the plight of Anglophones.
Mimi Mefo Info
You can help support our work through the link below