Government has been turning the heat on killers of journalist, Martinez Zogo, but not just anyone is being arrested; those implicated are 'the high mighty'.
At least three of them are known to have been detained at the State Secretariat of Defence, SED, for their alleged involvement in the journalist's murder.
To quickly flashback into Martinez Zogo's gruesome murder, the managing director of Amplitude FM was abducted by supposedly skillful assassins in the evening of Tuesday, January 17, after his futile attempt to find safety at a local gendarmerie brigade.
His mutilated body, in a state of decomposition, was only found five days later on January 22, several kilometres off the city of Yaounde.
Those who called the shots of his killing appear to have been well coordinated and organised.
Reporters Without Borders said it was a state crime, involving top barons of President Paul Biya's government.
Let's take a look at who they are, and why the 'mighty' seem to be falling so fast.
Maxime Eko Eko
Leopold Maxime Eko Eko is the head of Cameroon's secret service police, known as the General Directorate of External Research (DGRE).
He was summoned to SED for questioning on February 1, in relation to Martinez Zogo's murder.
This was after the arrest of his deputy, Lieutenant-Colonel Justin Danwe, Director of Operations at DGRE, who is believed to have effected Martinez Zogo's kidnapping, torture and murder, according to Jeune Afrique.
Danwe also confessed, in a testimony reported by RSF, about the involvement of his boss, Eko Eko, Justice Minister, Laurent Esso, and Media billionaire, Amougou Belinga, in the murder of Martinez Zogo.
Maxime Eko Eko, a former Director of General Intelligence at the General Delegation of National Security, has headed the DGRE since 2010, where he is reported to have tracked and eliminated several enemies of the Biya regime.
While he is being questioned by investigators, reports say he is now temporarily replaced by Monkouop Mouminou, Deputy Director General of DGRE.
Raymond Etoundi Nsoe
Thomas Raymond Etoundi Nsoe is a former commander of Cameroon's Presidential Guard and father-in-law to media billionaire Jean Pierre Amougou Belinga.
Etoundi Nsoe was arrested alongside his son-in-law in the early hours of February 6 in Yaounde.
It is alleged that Nsoe, father of Melissa, Amougou Belinga's youngest wife, was also arrested for his alleged involvement in journalist Martinez Zogo's murder.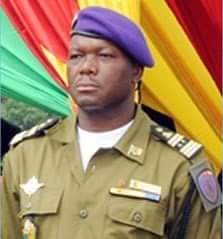 It is also reported that the latter owns a security company, which notably ensured the protection of the home of Amougou Belinga.
Amougou Belinga
Jean Pierre Amougou Belinga is the CEO of l'Anecdote Media Group, a multinational media company that also owns Vision 4 television and Anecdote newspaper in Cameroon.
He was arrested on Monday, February 6, alongside his close aide and employee, Bruno Bidjang, and father-in-law, Raymond Etoundi Nsoe.
Belinga is a prime suspect in the murder of Martinez Zogo. According to the report RSF published last week, the billionaire was one of those who called the shots on Martinez Zogo.
RSF said he personally tortured Zogo upon his abduction and the torture operation was carried out in a building owned by Amougou Belinga.
His media company l'Anecdote, confirmed in a release on Monday that he had been arrested for an investigation, but did not link it to the murder of Martinez Zogo.
Amougou Belinga is certainly a well established and connected business man, who dines with top members of government.
The late journalist Martinez Zogo usually criticised the business man and had been investigating embezzlement allegations against him when he was gruesomely murdered.
Amougou Belinga and co are not the only persons currently detained in connection with Martinez Zogo.
On February 2, the government said several persons had been arrested, but none of their names was mentioned.
Among the high profiled people implicated in the murder of Zogo is the Minister of Justice and Keeper of the Seals, Laurent Esso.
He is said to have ordered the abductors to "finish the job", according to a testimony of Justin Danwe, captured by RSF in a report.
By Tata Mbunwe
You can help support our work through the link below