By David Atangana
Several shops have been reduced to ashes in Ta Mveh Goat Market, Kumbo, Bui Division of the restive North West Region.
Sources say the Main Market has not been torched.
A source told MMI that, the military descended on the market early Tuesday, March 29, 2023 with the burning spree after facing a deathly attack from Separatist Fighters.
According to a resident in Kumbo, the military embarked on a raid "to fish out Separatist Fighters around the market but were attacked with an RPG and a landmine planted by the fighters."
"The Military entered Kumbo (Mbveh) at night in search of Amba Boys [Separatists], but encountered a fierce resistance from the the boys, as an RPG was fired into their hiding position with one Amoured car hit by a land mind," a local source told MMI.
"In retaliation, shops at Taa Mbveh are being Burnt down by the military," the source added.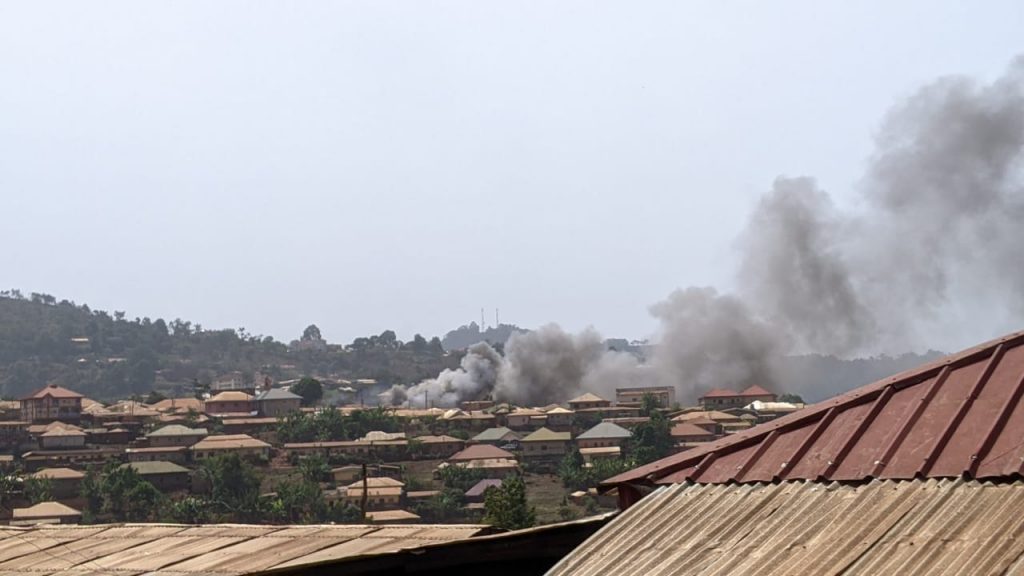 An amateur viral footage obtained by MMI shows a wild fire and thick smoke coming out of several buildings in a location confirmed to be Ta Mveh Goat Market.
Meanwhile a shootout between government soldiers and separatists forces left one separatist shot in the leg, our source added.
Impact
Impact of this morning's attack at Mbveh Market in Kumbo, North West Region of Cameroon.
One civilian shot dead at Squares Road, Kumbo, at least five others injured.
-11 Bikes burnt.
-4 building destroyed.
-Animal feed store burnt to aches,
-And more than 33 business within and beside the building destroyed consumed by fire and some looted.
"One Amba boy short on the leg." the source said adding that, "One can not tell of military casualties but I am told several military vehicles just arrived at Baptist Hospital."
It is however, unknown whether the military vehicles ferried wounded or death soldiers to the hospital as no official statement has been made.
Mimi Mefo Info
You can help support our work through the link below