Months after reportedly surviving an assassination attempt on his life, the Cameroon Renaissance Movement, CRM, says the life of its president Maurice Kamto is once more at risk.Citing an attack on his personal residence today Monday May 25th, MRC Secretary General, Ndong Christopher says it was carried out by a group of "bewildered persons".
"Shouting their hatred and death threats towards him, they accused him to be responsible of the attacks against Cameroonian Embassies abroad" Barrister Ndong says in a statement.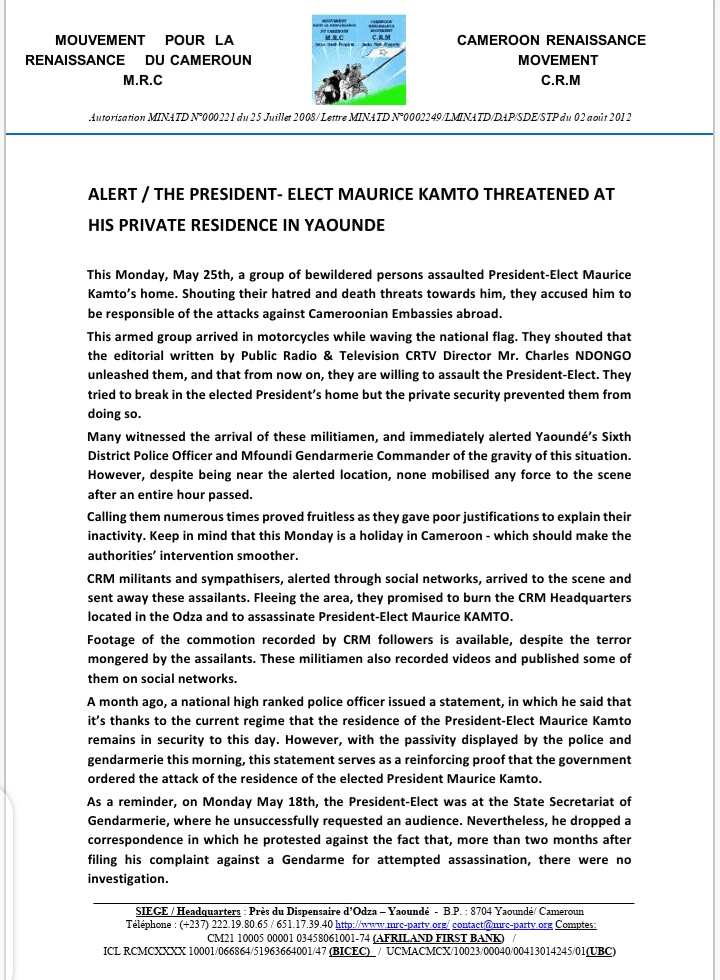 "This armed group arrived in motorcycles while waving the national flag. They shouted that the editorial written by Public Radio & Television CRTV Director Mr. Charles NDONGO unleashed them, and that from now on, they are willing to assault the President-Elect" he explains.
Kamto's private security he adds was however able to prevent them from breaking in. All attempts to bring the forces of law and order to the scene Roger Justin says proved futile.
"Calling them numerous times proved fruitless as they gave poor justifications to explain their inactivity." The gendarmes only arrived the scene some two hour later.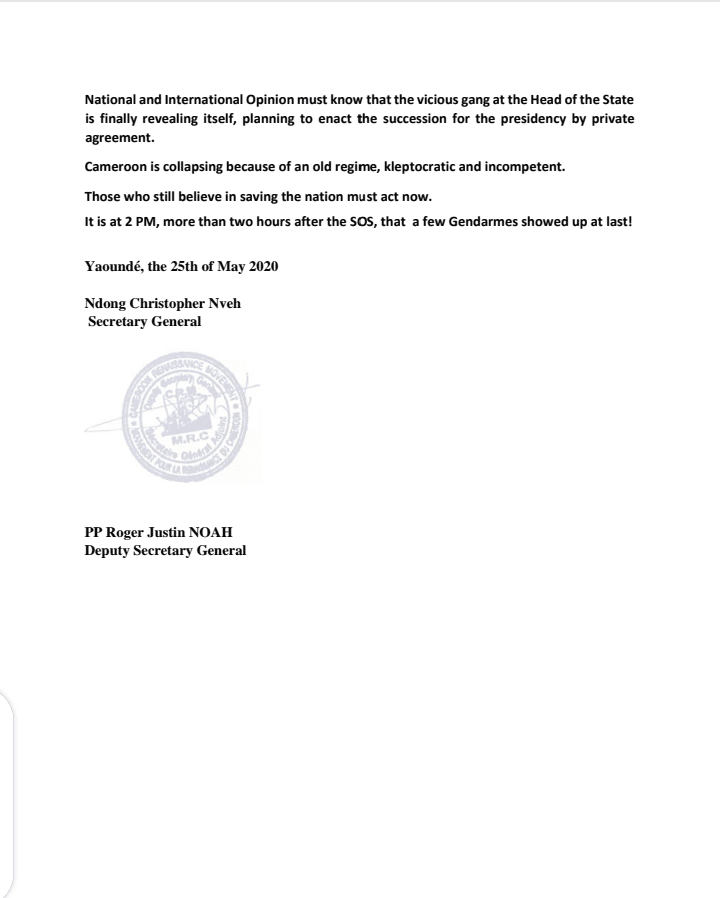 On Monday May 18th Kmato had sought audience with the State Secretariat of Gendarmerie to no avail. "Nevertheless, he dropped a correspondence in which he protested against the fact that, more than two months after filing his complaint against a Gendarme for attempted assassination, there were no investigation" the CRM Secretary General states.
Accusing the president of attempting to "enact the succession for the presidency by private agreement", the CRM Secretary General says "Those who still believe in saving the nation must act now."Since losing the 2018 presidential elections, Maurice Kamto has been at loggerheads with the Biya regime, and was even jailed alongside some of his accomplices.
In a tweet on Sunday he said Cameroonians would not accept any attempt to change power without first revising the electoral code.
Mimi Mefo Info
You can help support our work through the link below