A renowned group created by opposition leaders and civil society groups to denounce bad governance in Cameroon, "Mothers of Nations" has called on women in the West African Nation to boycott public celebration marking the 8th of March Women's day this year. In a press briefing in Douala Friday, February 21st, the group's members say the day (8th March) should be a veritable opportunity to call for a stop to killings, unemployment, injustice and bad governance in Cameroon. They call on women and girls to ignore the women's day fabric and put on black attire and fight for their freedom.
Bar. Michelle Ndoki, member of the Cameroon Renaissance Movement party regrets that some Cameroonian girls and women attach importance on Women's Day fabric. Michelle Ndoki who was jailed for eight months for criticizing the regime has questioned why women are forgetting to use 8th of March each year to call for a positive change in Cameroon. Ndoki says women should come together and denounce unhealthy practices committed by President Paul Biya's government.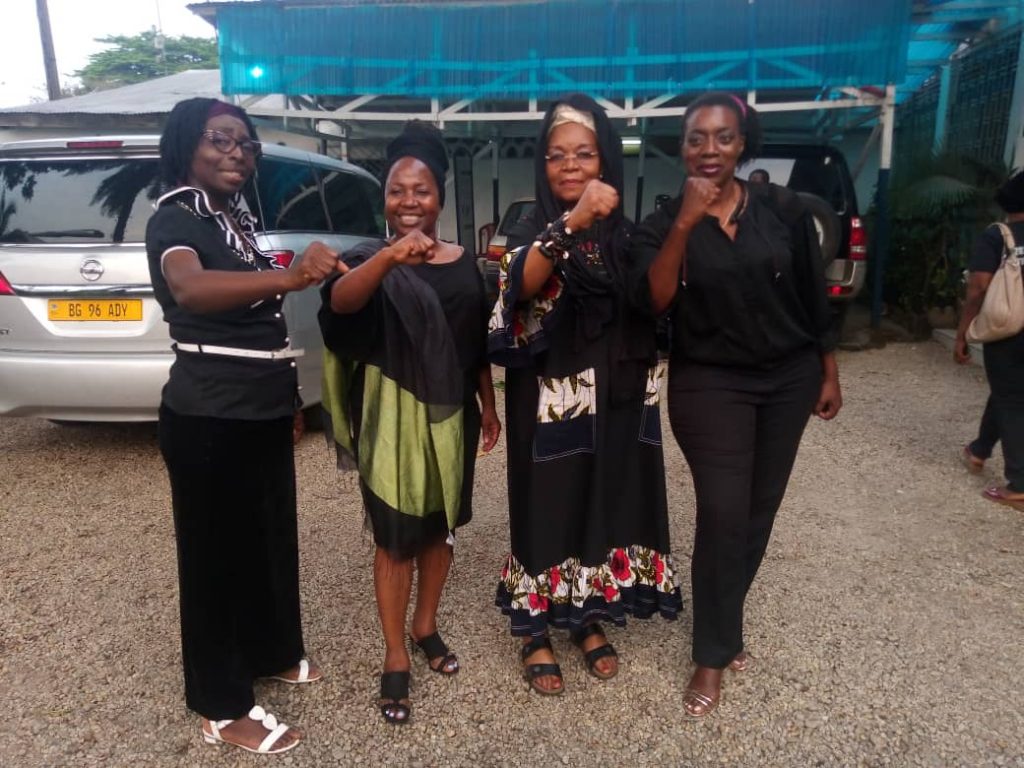 France has lost 30% of her investments in Cameroon since the beginning of the Anglophone crisis and other political instabilities in Cameroon. A reliable source has indicated that many French companies are shutting down due to the war. The separatist conflict started in 2016 and has adversely affected Cameroon's economy, including the country's giant cooperation, CDC.
Banda Kani, a member of the G20 group of political party leaders who supported Paul Biya during the October 7th 2018 presidential election in Cameroon has resigned. Speaking on a local radio station in Douala, Banda Kani said he is no longer with the "G20 nonsense". He further stated that he is writing a book to expose Cameroon's ministers Laurent Esso and Jacque Fame Ndongo. He claims both ministers are the true owners of the CPNR party led by Cabral Libii.
Catholic Christians in Douala have prayed and mourned for those killed in Ngarbuh in the North West region of Cameroon. In masses organized today in different Catholic churches in the city, Christians prayed for the peaceful repose of the souls of those killed. They also called on Yaounde government to respect the Lord's 5th commandment; "Thou shall not kill". A similar mass held in Kumbo, Bui Division. In Paris, Cameroonians staged a protest on the streets of Paris against the killing of women and babies in the conflict-hit regions. Over 35 people including women and children were burned down and shot dead in Ngarbuh on Valentine's Day.
Archbishop Samuel Kleda of the Metropolitan Archdiocese of Douala has called for an end to the blood bath in the North West and South West regions of Cameroon, reiterating that a single soul lost is one too many.
To the man of God, violence most are stopped and true dialogue organised for a  final resolution. He was speaking during a speaker requiem mass organised in favour of woman and children slain in Ngarbu-Ntuwbaw on Friday, February 14th 2020.
Francophone writer and critic, Dieudonne Essomba has warned that Cameroon may become like other countries with successful secessionists if care is not taken. At independence, Africa, the critic says, had four federal states, Ethiopia, Sudan, Somalia and Cameroon. The first three tried to suppress secessionist movements to no avail he states, warning that "Cameroon, last on the list may also be following the same path". "Anglophones no longer want a unitary state. They really don't want it anymore, no matter what reforms you can make. The unitary state reminds them of all that is devious, violent, brutal and dishonest. It is the word "unitary" itself that fuels the war and must be noted" Essomba writes.
Christopher Fomunyoh says the Ngarbuh killings have stirred "anger and revolt against the dark side of humanity in today's Cameroon". While praying for the souls lost, the Senior Associate for Africa and Regional Director at the National Democratic Institute for International Affairs says: "this Valentine's Day Massacre bleeds our hearts & pricks the conscience".
A firefighter was shot dead early today around Dabanga as he travelled from Kousseri to Maroua, Far North Region of Cameroon. He was shot by suspected Boko Haram militants.
At least six families in New Bell, Douala are now without a home after an intense storm swept away their roofs last night. Several quarters in Douala have been plunged into total darkness as electrical installations were pushed down. Affected families are now stranded. The torrential rains also destroyed business premises, especially in the Douala three area. Poor urban planning has been blamed for high inundations.
Less than six hundred athletes are expected to take part in the 2020 Mount Cameroon Race of Hope tomorrow Saturday in Buea. Observers say attendance keeps reducing as the armed conflict which started in 2016 in English-speaking regions lingers on.  Launching the 2020 edition today at Molyko Ommisport stadium, Cameroon's Minister of Sports and Physical Education called on the population to give peace a chance.
The Minister of Basic Education, Laurent Serge Etoundi Ngoa today presided over the official ceremony of the celebration of the International mother tongue day in Yaounde. This year's edition has a theme: "Language without borders". The day was set aside by UNESCO to promote linguistic and cultural diversity.
Police in Douala is in search of a young man accused of murder. According to security sources, the 19-year old Nji Bless and his friend took their younger brother to a bush in Misole village towards Edea where they used a razor blade to cut his neck. The two were acting on instructions of a "strange businessman on WhatsApp" who promised them a monthly financial payment of 300 US dollars, an equivalent of CFA15million.
Lesotho's Prime Minister Thomas Thabane has denied reports that he has fled to South Africa after he failed to appear in court to face charges of murdering his estranged wife in 2017. He has gone there for a medical checkup instead, his office said. His current wife Maesaiah Thabane has already been charged with the murder.
President Yoweri Museveni of Uganda and President Paul Kagame of Rwanda have arrived at the common border of Gatuna ahead of negotiations to normalise relations between the two countries. The two who shook hands have signed an extradition treaty to allow the exchange of wanted criminals.
One hundred members of the outlawed Muslim Shia group, Islamic Movement in Nigeria (IMN) have been acquitted by a high court in Nigerian city of Kaduna. They are the last group out of 200 members detained since 2015 and accused by the Kaduna state government of violence-related offences.
Voters in Togo will head to the polls on Saturday to choose their next president. Incumbent Faure Gnassingbé will face six rivals, including long-time opposition leader Jean-Pierre Fabre.
The French military says it has killed about 50 Islamist militants in Mali. It said one of the dead was a member of the Sahel's branch of the Islamic State group.
Nigeria's Interior Minister Ogbeni Aregbesola has asked the US to reverse its new visa restrictions on Nigerians. US visa restrictions for citizens of Nigeria, Myanmar, Eritrea, Kyrgyzstan, Sudan and Tanzania came into force on Friday. Citizens from these countries will be suspended from US visas that can lead to permanent residency.
People in Uganda's northern district of Kitgum are eating desert locusts that have devoured their crops, according to Uganda Radio Network (URN) news agency. The agency reports that poor harvests in the area have forced residents to make locusts their alternative sources of food. But some were concerned about possible health problems because the Ugandan government has been spraying locust-infested areas with pesticides to try to halt the spread.
South Africa will not send its Olympic football team to Japan to play a friendly in March because of concerns over the coronavirus outbreak. The two teams were due to play in Sanga on 27 March, four months before the start of the 2020 Tokyo Olympics. There have been 85 confirmed cases of coronavirus in Japan and one death, according to the World Health Organization as of 20 February. (Source Foreign News: BBC Africa).
Mimi Mefo Info
Support us: PAYPAL: MILLYVILLE2004@YAHOO.FR / MOBILE MONEY: +237679135573
You can help support our work through the link below