By David Atangana
Inhabitants of Ndop, Ngohketunja Division in the North West Region will now have to travel to and from Bamenda using military escort, MMI has learned.
The opportunity was provided by Ndop Council, a local in the area told us.
This follows the blockage of Ndop-Bamenda road by armed separatist Ambazonian fighters.
The road has remained blocked for several weeks now.
Locals got up Tuesday December 20, 2022 seeing bill boards all over the municipality with an alternative means of transportation offered by Ndop Council in collaboration with the defense and security forces.
According to information gathered, stranded persons will be transported free of charge, through military escort.
"For stranded persons free of charge through military escort," the bill board read.
Bearing Ndop Council, a telephone number is also attached probably for contacts to those wishing to exploit the offer.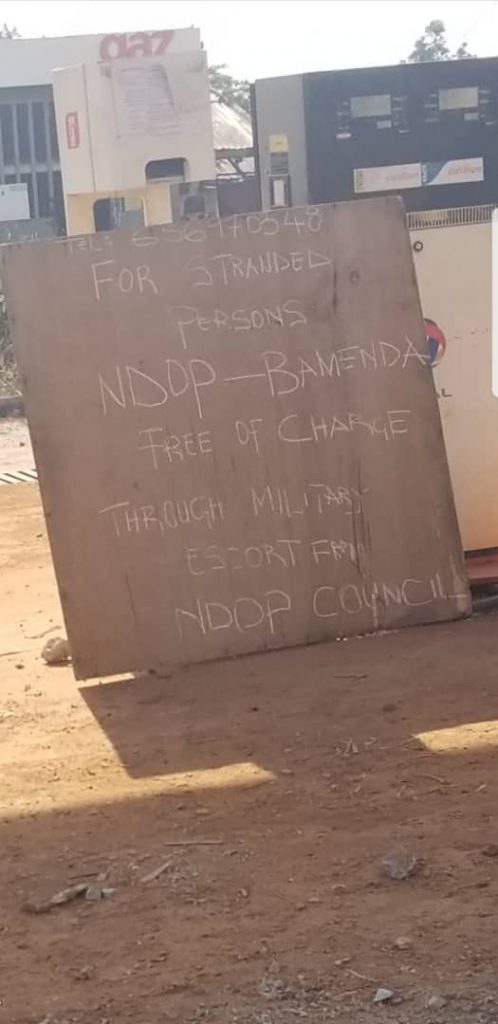 Ndop denizens have for the past weeks been facing transportation difficulties due to the road blocks. Many are reportedly stranded as the festive christmas period gains steam in other localities.
"I lost my uncle and I have been in the village all these while since the road too is blocked," a local told MMI adding that: "it has not been easy to get out of here."
"Finally government has now put this sign post all over here to woe people use them to cross," he went on.
Denizens have been using other routes to travel out of the village at very high costs.
Travelers now pay 10,000FCFA to be transported from Ndop to Bamenda, a distance which initially cost atleast 1500frs.
"We now travel from Ndop, through Bambalang, Baligasen, Mbouda before reaching Bamenda," a source who opted for anonymity lamented, adding that: "we now have to pay 10,000FCFA."
It should be recalled that armed Separatists in Ndop declared the road blocked after the government reportedly stationed a military post in Bamessing, one of the Separatists strongholds.
Many have condemned the road-blockage questioning how it advances the Separatists' bloody quest for independence which began in 2016.
Ambazonia fighters are noted for blocking roads in retaliation to mount pressure on the Yaounde government, to address their plights — one of which I'd granting them self rule.
Mimi Mefo Info
You can help support our work through the link below