By Tata Mbunwe
Information has been circulating that the Nigerian army is planning an attack to reclaim the oil-rich Bakassi Peninsular that was ceded to Cameroon in 2002.
Based on a document reportedly signed by the Director of Territorial Surveillance at the Delegation of National Security, Nigeria is planning a "serious paramilitary attack" on Cameroon.
The attack is reported to take place this February, two weeks before Nigeria's presidential elections scheduled for February 25.
The leaked document furthers that Nigeria intends to target Kombo Abedimo, Kombo Etindi, Idiabato and other localities that make up the Bakassi Peninsular.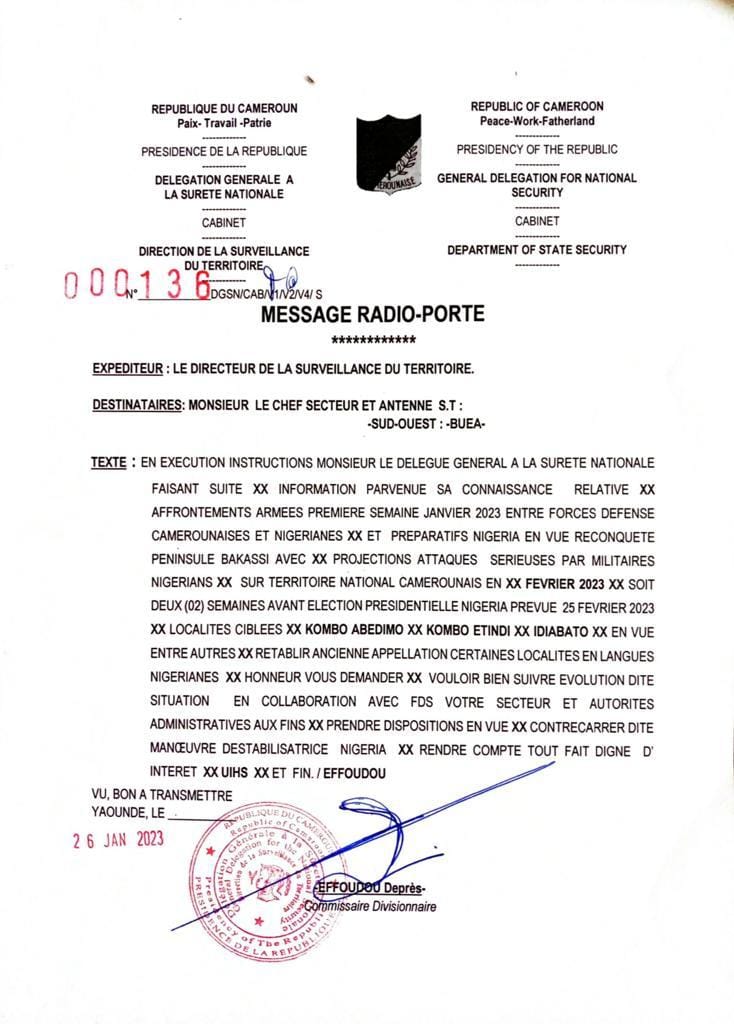 The once disputed peninsular that is now part of Ndian Division in the Southwest region was ceded to Cameroon by the International Court of Justice, ICJ.
Before then, both countries claimed control over the oil-rich area and almost went to war in 1981. About 34 lives were lost due to bloody confrontations between Nigeria and Cameroon in 1994, the BBC reported.
In 2002, the ICJ ruled that the territory belonged to Cameroon, although Nigeria had administered it since gaining independence in 1960.
The Bakassi Peninsular however remained quite turbulent after the ICJ ruling, with skirmishes still going on between Cameroon and Nigerian military officers.
In 2005, the Green Tea Accord signed by both obliged them to protect the citizens of the ceded area from harm.
Nigeria fully withdrew its troops from Bakassi on 14 August 2006 after international pressure, but it continued to administer the area until 14 August 2008, when Bakassi was officially ceded to Cameroon.
Impact on Anglophone Crisis
The armed conflict in Cameroon's English-speaking regions has increased the precarious security situation reigning in the Bakassi peninsula.
Cameroon's inability to Manage the conflict in its terrible is giving some agitators in Nigeria another opportunity to regain the territory from Cameroon.
Experts hold that, for Cameroon to keep Bakassi, "it needs to deal with the Anglophone Crisis as a matter of urgency."
The crisis which started six years ago has claimed thousands of live and created a humanitarian crisis with million in need of aid for survival, according to the UN.
Mimi Mefo Info
You can help support our work through the link below