The people of Nso under the leadership of the Nso Development Association and its unity campaign #NsoFirst released a communiqué in which they thanked all well-wishers for their efforts to realise the release of their Fon.

The Nso people expressed gratitude to the people of Babessi and Baba and the entire Ngoketunjia Division for galvanising and in unison demanding the release of Cardinal Christian Tumi and subsequently the Fon, both of whom were abducted on the 5th November 2020.
This abduction took place when the Fon was on his grand return journey to his kingdom after living in exile in Yaounde, the capital city for almost 3yrs following insecurity. Since the beginning of the Anglophone crisis, the Separatist fighters who are fighting for a new state of Ambazonia have blamed the Fon for being involved with the ruling party CPDM (Cameroon People's Democratic Movement). This was a major reason for the abduction of the Fon who the Separatist fighters believe is planning to participate or facilitate the regional elections of December 6th.
Though the Fon was released, it was with strict instructions for him to steer clear of politics. He was released in Bamenda which is the opposite direction to Nso, meaning the Fon is still not able to make his way home.

Meanwhile, the Nso community emphasised on the importance to keep him safe. In the communique, they appeal to "…everyone to show responsibility on any information he/she shares about the Fon." This relates to all videos and pictures of His Highness that were taken while he was in captivity.

The Nso people confirm that their Fon is good hands and doing well.
Read the communiqué below.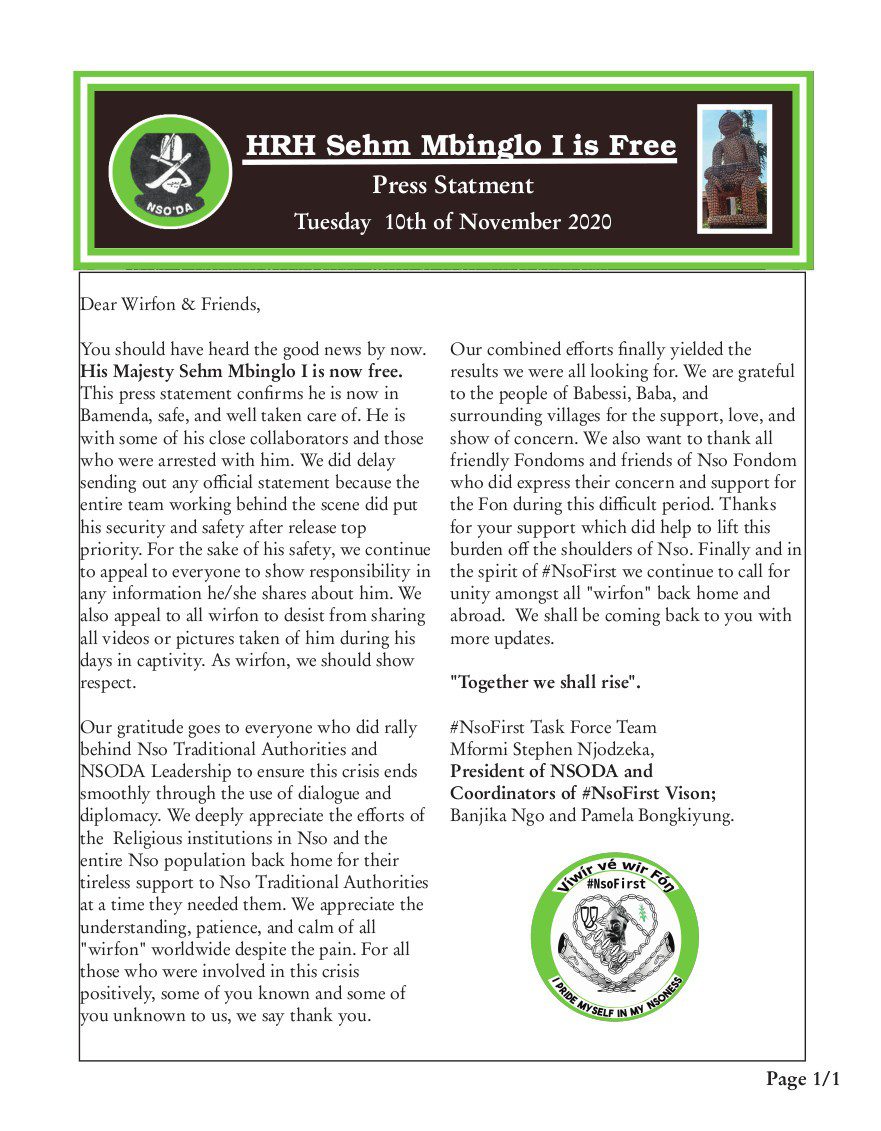 You can help support our work through the link below