"We are in fear, all social media platforms are talking it, I am going out soon to hunt for mask, how are we going to cope with this in the middle of a conflict?"
A Bamenda resident writes to Mimi Mefo Info as the first case of Covid-19 hits the restive town of Bamenda, in one of Cameroon's Anglophone regions.
On the night of Monday April 6th 2020, the regional delegate of health in the North West, Dr Che Kingsley Soh, announced the first confirmed case of COVID 19 in the region. He said the patient is in a locality called Andek.
"The lady (names withheld) came in from Kenya and escaped quarantine. Later she moved to Bamenda via public transport and to mbengwi. With the aid of a bike, she moved to her village Ngie, " the delegate said.
The news was made official during the regional COVID19 assessment meeting of Monday April 6th 2020 presided over by Governor Lele Lafrique to assess the health situation of the region.
Currently the pandemic has eaten into five (Centre, Littoral, West, South West and North West) out of ten regions of the republic of Cameroon.
As at this Monday April 6th, 2020, Cameroon had recorded 658 cases, 9 dead and 17 recoveries
Local administrative officials have been stepping up measures at different fronts to prevent the spread of the various.
Governor Adolphe Lele L'Afrique calls on the population to obligatorily wear face masks as instructed by the minister of public health when going out of their homes. And above all strictly respect the 13 measures of the Government and other preventive measures by the WHO, while enforcing the lockdown calls to stop further spread of the disease.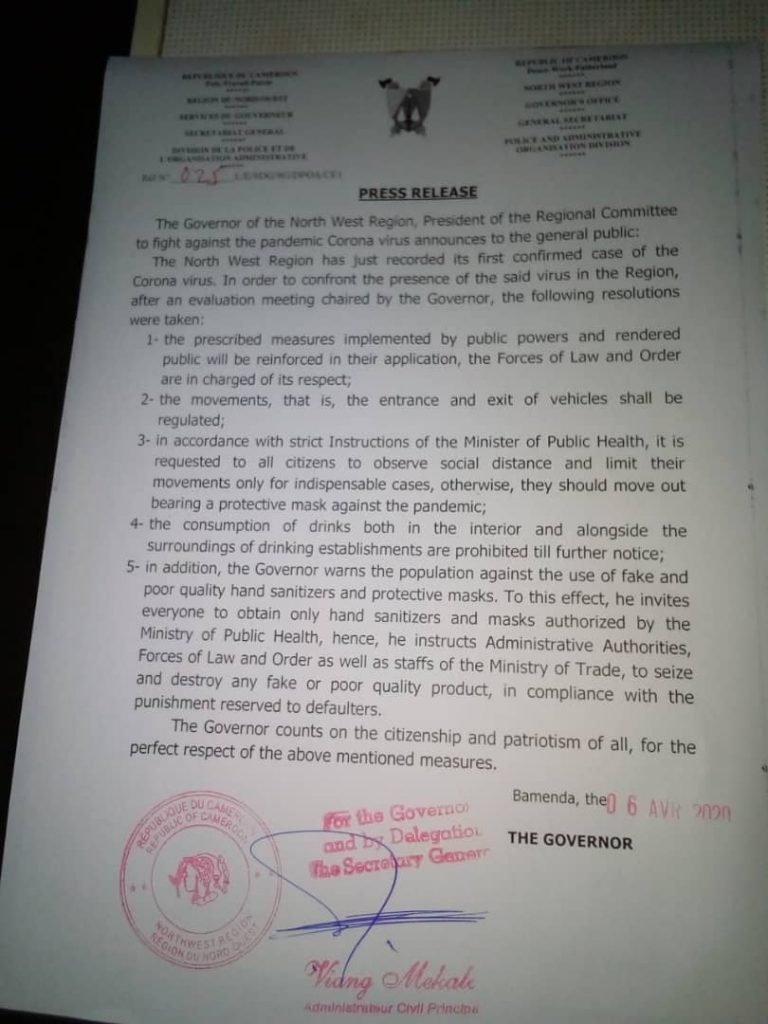 The population should stay home and stay safe and should travel or go out only when necessary, the governor adds.
Mimi Mefo Info
You can help support our work through the link below