Abdul Karim; a front line Ambazonia activist in Bamenda; North West region of Cameroon has described singers from the North West and South West regions of Cameroon as "Bloody traitors and enablers".
In a tweet Monday October 19th 2020, the Muslim scholar in an abusive manner wrote "Those idiotic anglophone singers (Stanley, Daphne, Leo etc) should eat bottle and enjoy how they betrayed their people for money and earthly popularity among the killers of their own."
The activist thinks the singers have not used their God given talent to denounce the killings, kidnappings, assault and all other forms of atrocities committed against anglophones by the government of president Paul Biya.
"… The singers are unable to use their 'langer' voices to sing the injustice and genocide done to their people but have the dirty tongues to voice colonial phone tax. Do people party when others are dying? ".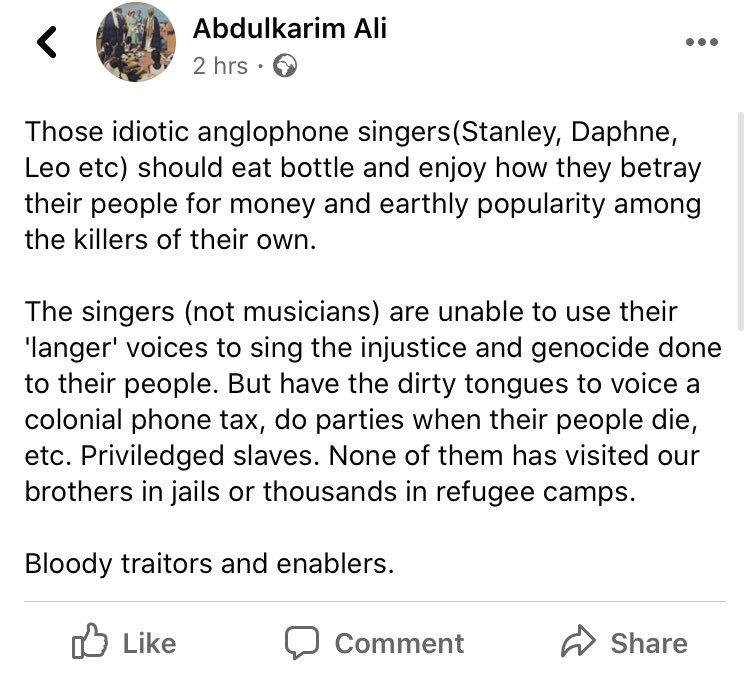 To Abdul Karim, none of these urban music artists have visited anglophones detained in connection to the anglophone crisis nor have they visited refugees in any of their camps. For all these, he calls them "…privileged slaves".
In a telephone interview with with Mimi Mefo Info, Abdul Karim apologises for the tone in his tweet but adds that "…I am really frustrated by the reaction of these singers towards the crisis since 2016. We are not saying they should abandon what provides daily bread for them and their families but how can they be so indifferent to the plight of their people? For once can they sing and denounce all forms of human rights abuses in the regions without supporting this or that side of the war?Look at neighbouring Nigeria where their colleagues singers took the front line to denounce excesses of Special Anti-Robbery Squad (SARS) against Nigerians."
He hopes that the message should get to the artists who have not consider the respect of human rights as a theme for their songs.
At the time of this report, none of the artists mentioned had reacted to what many call a direct attack on Anglophone singers.
Mbatho Ntan.
You can help support our work through the link below