Two natives of Ntumbaw village were killed by suspected Fulani men Sunday May 10th 2020.
The victims have been identified as Justin Nfor and Emmanuel Tanfor with over a dozen others wounded.
In a letter addressed to the Senior Divisional Officer for Donga Mantung Division Monday May 11 , 2020, His Royal Highness Nge Mohammed – Chief of Ntumbaw village narrated that " over thirty armed Fulani men and two people dressed in military uniform with guns and machetes invaded Mbawlah and Mbaka quarters in Ntumbaw village harassing people "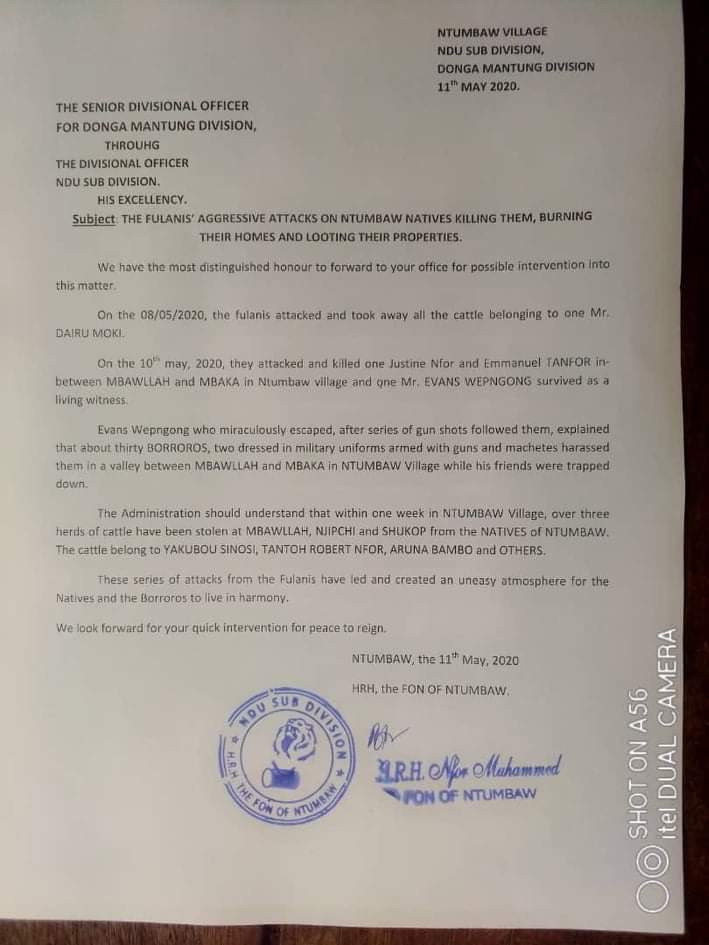 The letter to the SDO – Simon Newenti Doh indicated that several cattle belonging to the natives of Ntumbaw village have earlier been taken away by the Fulanis on the 8th of May.
"In the pass three weeks, hundreds of cows belonging to the natives have been taken away by the Fulanis".
The Chief adds that areas worst hit are Mbawlah, Njipchi and Shukop quarters leaving the owners (Ntumbaw natives) in total agony and pains.
The traditional ruler of Ntumbaw village is therefore calling on competent administrative authorities in Donga Mantung to stop atrocities meted on them by the Fulani in collaboration with the military.
Ntumbaw village has been a scene of manslaughter of recent. On the 14th of February 2020, military massacre over two dozens of people in Ngarbuh – a quarter in Ntumbaw village, Ndu Sub Division – Donga Mantung Division in the North West Region of Cameroon.
Mimi Mefo Info.
You can help support our work through the link below